7 storybook suites for an escape to the mountains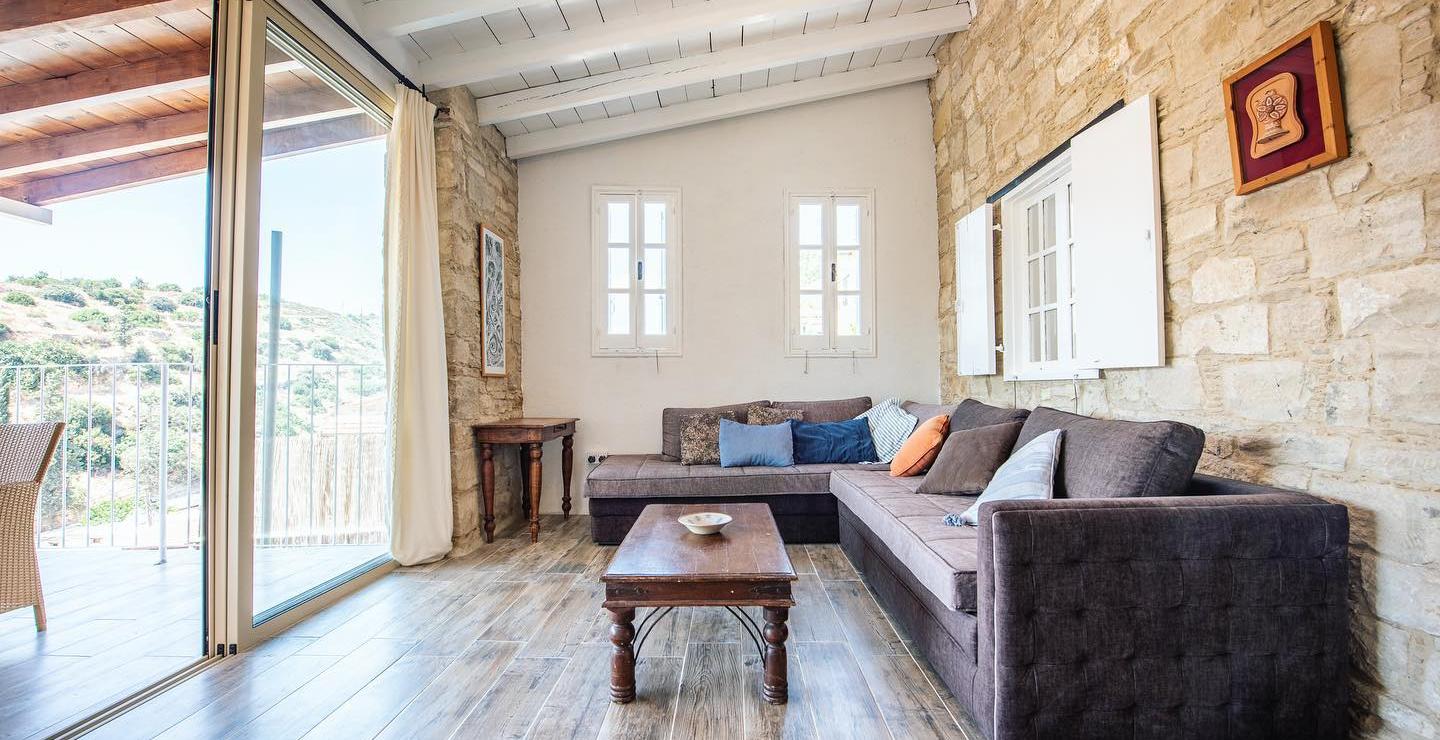 The weather is changing, the temperature is falling and we are in the middle of autumn, a season that creates beautiful and unique images in the Cypriot countryside. We give you beautiful ideas for getting out of town and experiencing this time of year in cosy accommodation in the village. Book a room on the mountain and experience a great night or even a weekend. Cypriot agrotourism accommodation has been modernised in recent years and has created beautiful romantic suites with all comforts. Choose one of the following and experience unique luxury.
We have discovered 7 beautiful and luxurious mountain lodges for an unforgettable weekend.
Serenity Boutique Houses
Serenity Boutique Houses are the perfect choice for a stay in the village. Situated in Vouni of Limassol, one of the wine villages of Cyprus in a stunning landscape with an impressive climate. The Serenity Boutique Houses consist of two suites, the Suite with garden view and the deluxe queen suite, two separate luxurious suites in a fully refurbished, stone-built three-storey house, lovingly designed to give a unique touch of relaxation and tranquility. The suite with garden view and the deluxe queen suite can be converted into a three-storey house and can accommodate up to four people. SERENITY is located in the centre of the village and the two cafes available in the village are 20m and 100m, respectively, away from the suites. The village's restaurants are also within 300 metres. This offers additional relaxation since car use is unnecessary. Vouni is a great location for tours as it is 25 minutes by car from Limassol, 10 minutes from Omodos village, 30 minutes from Troodos, 20 minutes from Platres. It is worth noting that there are many wineries around the area.
(99 226600) Vouni, Limassol.
Mespilo House
The fully equipped home we recommend has it all! Tranquility, scenery, modern décor, a lovely veranda with views, its own garden with dining tables, and it will give you a true feeling of nature and tranquility! Mespilo House is located in Tochni village of Larnaca district, one of the oldest villages on the island and a perfect idyllic destination. The Mespilo's apartments are stylish and exude a modern air, although they include traditional furnishings and wooden floors. They come with satellite TV, a furnished balcony or patio overlooking Tochni, and a private bathroom with a hairdryer. The property also has a swimming pool which is free of charge. Mespilo offers self-catering apartments and a fitted kitchen, as well as a bicycle rental service and a tavern with a terrace where you can enjoy Cypriot cuisine. Staff at Mespilo House's tour desk can arrange boat trips or horse riding on the Drapia farm 2 km away. In the village you will also find the Tochni Tavern, which serves traditional Cypriot specialties. You can enjoy your meal on the shady, outdoor Mespilo terrace overlooking the village.
Oinou Strata Luxury Suites & Wine Bar
It is an inn, restored with great love and infused with a strong love and aroma of wine in Vouni, Limassol.
The room: Luxurious and impressive Champagne Luxury Suite, with original design, vintage aesthetics and all comforts to enjoy the ultimate stay experience. A fireplace, luxurious toiletries, in-room breakfast, platter and welcome drink on arrival will save you a fortune.
Etc: It has three luxurious and atmospheric suites. Shiraz, Merlot and Champagne, with luxury and comfort in perfect harmony. But it also has a 'small temple' dedicated to fine wine, with separate selections and a dining menu with options (platter, salads, sandwiches and main dishes) that can suit your drink. The mansion's inner courtyard is ideal for enjoying food and drink in a beautiful setting.
(25 944244) Vouni, Limassol.
The Vouni Collection
A beautiful inn in Vouni, offering unparalleled serenity and tranquility, ideal for those who want to escape the routine.
The Room: Furnished in a contemporary style, the Hideaway is ideal for two people, offering all the comforts, while keeping the charm of a small village home. With yellow stone, a fireplace, a lovely bed and wood details, it offers warmth and a special atmosphere.
Etc: Three fully renovated traditional houses, with names like Hideaway, Lookout and Balcony, are available to accommodate their guests, providing them with all the comforts. The first two are considered ideal for couples as they can accommodate up to two people, while in the third has capacity for four. All three have their own pool! It is worth noting that there is a minimum rental period of three nights.
(99 834719, 25 352066) Vouni, Limassol.
Oinoessa Traditional Boutique Guest Houses Lofou
In the heart of Lofou, in a beautiful location with a unique architecture typical of the tradition of the area, Oinoessa will enchant you with its hospitality and facilities.
The Room: The brand new Suite View (with a panoramic view) is an extremely spacious accommodation. It is divided into two levels, the ground floor and the loft. On the ground floor is the kitchen, which is fitted with all the utensils, the spacious living room and the soft sofas that will warm you up, and the fireplace that warms the atmosphere. And the staircase you see on the ground floor will lead you to the loft, where you will enjoy moments of relaxation … in the bedroom. There you will find a king-size bed and a jacuzzi bathtub.
Etc: The complex consists of three stone houses, with eight luxurious studios around a private courtyard, where you will experience complete peace, away from the routine of everyday life. Wi-Fi and a small breakfast are included in the stay!
(99 373371, [email protected]) Lofou, Limassol.
Apanemia Inn
A traditional inn in Lofou, built of stone and wood, awaits you for relaxation and tranquility.
The Room: Wooden beamed ceilings, wooden floors and antique furniture in two rooms with a traditional air and comfortable bed. The accommodation consists of two bedrooms, two bathrooms, a fully equipped kitchen and a spacious living-dining room with a fireplace.
Etc: The latest addition to the Apanemia Inn is a luxurious, spacious studio in a traditional yet contemporary style. It impresses with the large traditional Cypriot bed, as well as the outdoor Jacuzzi in the courtyard that offers relaxation to the guests. It also has air conditioning, a terrace, free Wi-Fi as well as an indoor furnished patio, some of which have a cover and garden furniture.
(99 527711, www.cypruscountryhouse.com) Lofou, Limassol.
Ample Places
A complex of two independent and autonomous houses for ecotourism, located in the village of Pano Lefkara.
Room: You will stay at Polytimos, a 122 sq m unique building that used to house the Cooperative bank of the village and later a coffee shop, and now it has been transformed into a spacious, single layout house with a harmonious living space, with a dining room and kitchen. Overnight in the Unique, which is an interior wooden traditional mezzanine, featuring a double and twin beds, while in the living room you will find the fireplace as well as all comforts for a comfortable stay.
Etc: These are two guesthouses that have been refurbished to the standards of sustainable architecture, which harmonise the local traditional element with the modern one. The hostels feature bright and airy spaces, while their interior furnishings consist of preserved, authentic Cypriot furniture, folk crafts and contemporary artwork.
(99 613771) Pano Lefkara, Larnaca.