Beautiful mountain bars, for good wine by the fireplace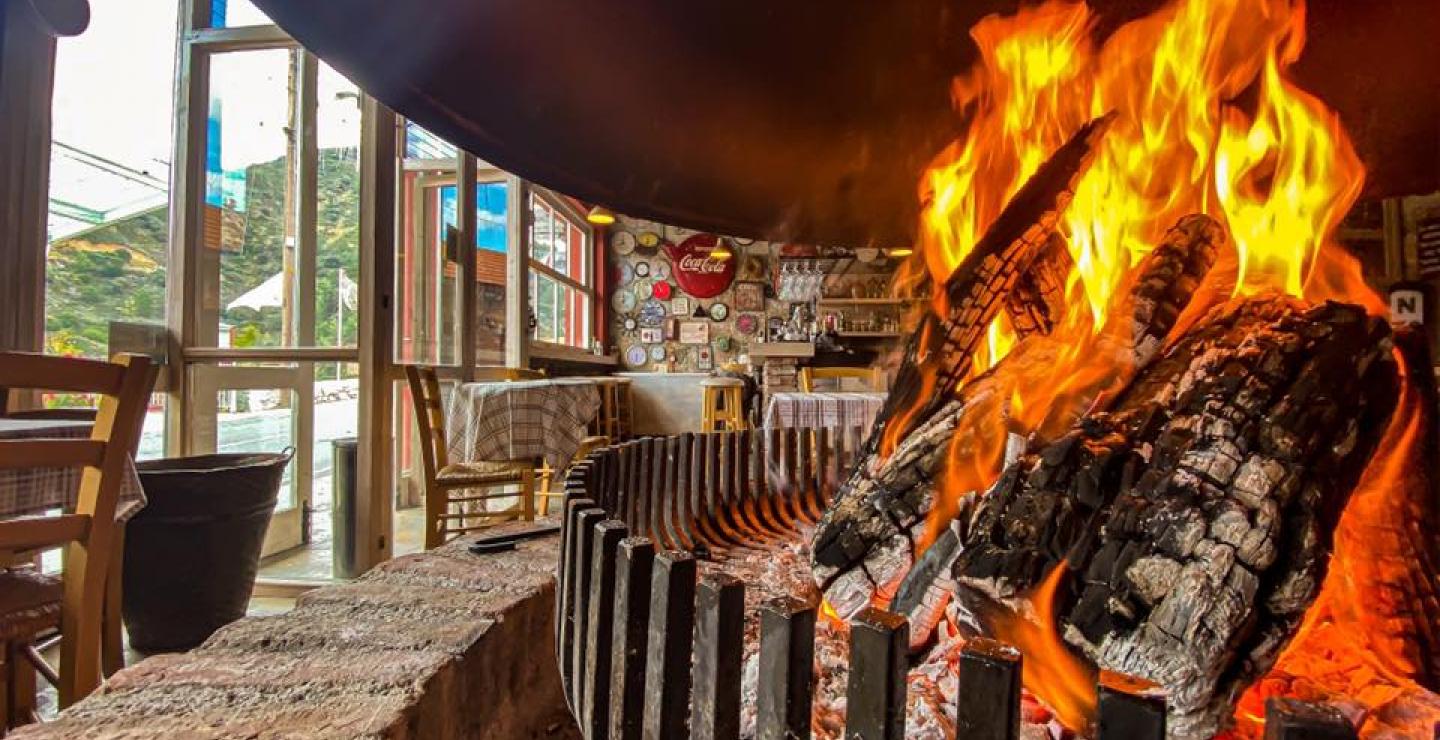 Winter is here, and if we have at least one reason to rejoice, these are the fireplaces that light up the island's hangouts and especially in the mountains!
After all, few things compare to a lit fireplace in creating a cosy atmosphere, during the coldest season of the year.  That is why we suggest hanging out, hiking the mountains, and lounging by the fireplace at four gorgeous wine bars in the mountains.
Oinou Strata Wine Bar
In an atmospheric setting, in a picturesque alley in the village of Vouni, the modern and the classic harmoniously unite, in an ideal space to enjoy a night out drinking wine. Its cellar has 55 wine labels, mainly from Cyprus, Greece, Italy, but also New World wines. If you want, choose wine by the glass (€6- €8). Your wine will be served with a platter of cheese, cold cuts or fruit (€28/4 people) or a combo platter (€38).
Food Tip: We recommend that you combine a white Xynisteri with a quinoa salad (€12) or a rose sparkling wine with a salmon sandwich (€12).
(25944244) 5 Ellados Street, Vouni, Limassol (reservations only).
Αgrovino Wine Bar
Lofou hosts this fine wine bar housed in a beautiful stone building with wooden accents, which combine tradition with quality and authenticity. It has 100 different wine labels, exclusively from Cyprus, and you will also find options by the glass (€4- €6.50), accompanied by a platter of Cypriot cheeses, cold cuts, homemade jams and fruits (€12/2 people). Most notably, try the beef burger with fresh potatoes (€7.50), which will be accompanied by a Maratheftiko, or pizza with mozzarella and pesto (€10), which matches a Cypriot Xynisteri.
(25470002) Stavrou Street, Lofou, Limassol. Fri-Mon 12.00-23.00 & Tues-Thur 12.00-22.00.
1725 Cafe Bar
With rustic décor, a beautiful cosy space in the heart of Troodos Square (next to Troodos Hotel), offers hot drinks early in the morning, continuing with an interesting list of wines combined with gorgeous treats in a magnificent landscape. With the wood-burning stove lit and warmed up, in the wine bar you will enjoy a unique view of the pine-covered slope from its large patio doors.
(25 420000) Next to Troodos Hotel, Troodos.
CafeOinos
A very cosy space that perfectly combines traditional with modern, with a round fireplace in the middle. This is the "Café" that has been operating in the village of Kalopanayiotis for some years. Here you can have a coffee, or choose one of the special drinks offered by the stone-built shop. Among the drinks you will find there are lemonade, coffees, etc. In the evening, "CafeOinos" serves wine, which you can combine with its platter, but also with live music.
(99 789331) Kalopanayiotis, Nicosia.