Return to the Larnaca's Mackenzie Beach
As summer approaches and the weather continues to get better, many of Cyprus' seaside restaurants and bars have begun re-opening their doors to welcome guests.
One area is Larnaca's Mackenzie beach, which is a favourite summer location among locals and visitors, looking to enjoy drinks, coffee, and food next to the sea.
The establishments at Mackenzie are also favourite night-time hotspots, as they are known for their live music and excellent party atmosphere, during summer nights.
During your travels, you will want to spend some time at these establishments, which spread summer vibes.
Re.Buke Lounge
The lounge-bar/club is provides a comfortable and relaxed atmosphere for a summer day or night out.  The space has large wooden tables, and they serve continental and Asian dishes in large portions.  The lounge is located at the edge of the beach, which is usually full of people.
TRY: If you stop in, you should try the Black Angus burger served with French fries (€12.50) or their salmon ravioli (€14.50).  Some other favourites at Re.Buke include sushi rolls, including the sushi ebi crunchy (€9.50) and the salmon spicy crunchy (€8.50).
For more information call +357 24 626212 or 96 671027.  The lounge is open from Monday to Sunday 12.00-02.00.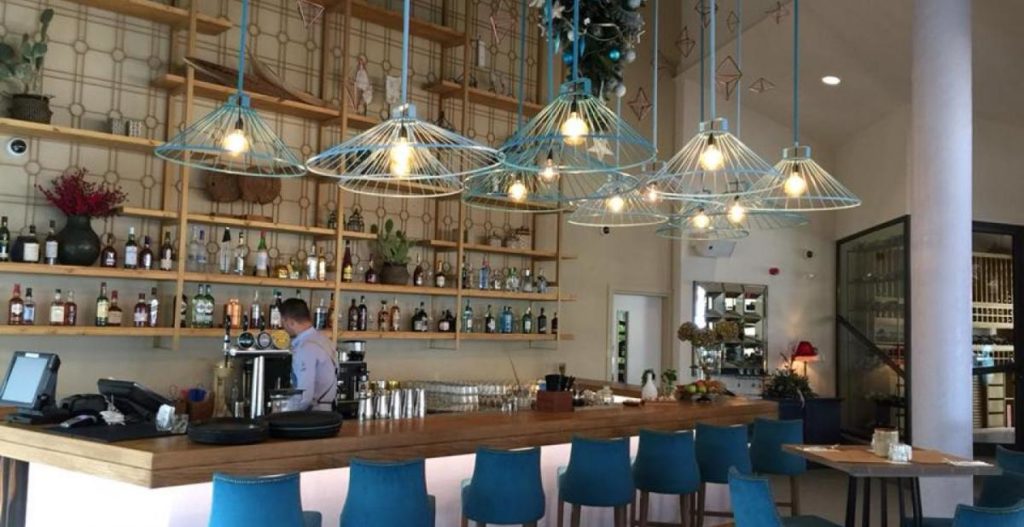 Almar Seafood Bar
This is a modern seafood restaurant, which provides good food, a relaxed atmosphere, and has a well-kept bar.
TRY: You will want to give their tiger prawns a try.  They are served with cherry tomatoes, onion, fennel, ouzo, pepper, and feta (€14).  Another dish, which is well-liked is the tuna tartare (€13).
For more information call +357 24 201700. Open from Monday to Sunday 12.00-23.00.
Lush Beach Bar Restο
This is an all-day bar and restaurant, which hosts concerts from time to time.  Aside from nights filled with music and fun, the bar-restaurant also has a large menu, which includes salads (€9.20-€13.80), seafood dishes, and sushi (€7.80/ California maki).  They also have refreshing cocktails and drinks.
For more information call 70 008089.  Open from Monday to Sunday 10.30-02.00.
Caffè Nero
Here you will enjoy a good coffee or tea, in a warm and cosy atmosphere, which is ideal for friends and families.  On their menu you will also find salads and pizzas (€7-€9).
For more information call +357 24 023070. Open from Monday to Sunday 08.00-23.00.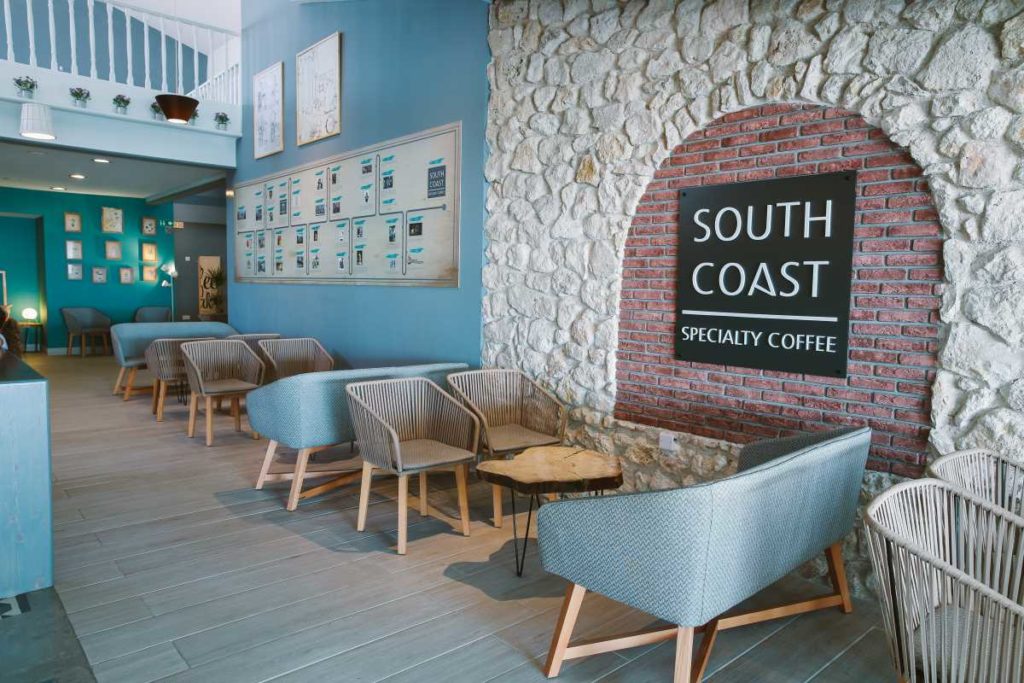 South Coast
If you want to grab dessert and sit by the sea, head to South Coast, and enjoy some homemade ice cream (€1.90/1 scoop, €2.90/ 2 scoops).  They also serve other desserts, waffles, and speciality Arabica coffee.
For more information call +357 24 656647. Open Monday to Sunday 08.00-24.00.
Ammos Beach Bar
This is a local-favourite, and is a well-lit, spacious beach bar, decorated with white accents.  In the afternoons, it is particularly romantic, offering great views of the sunset.  It is known for its good food and cocktails.
TRY: A favourite is the grilled sea bass with a citrus sauce (€17), which is served with either French fries, mash, or wild rice.  There is also the teriyaki balsamic beef fillet (€24), which is marinated and cooked on the grill.
The bar also organises various events during the summer.
For more information call +357 24 828844. Open Monday to Sunday 10.00-03.00.
Blue Martini
This is a club, and it will open its doors for the summer season on May 25.  They offer cocktails and drinks, as well as, exciting and fun summer nights out.
For more information call +357 99 274585. Open Wednesdays, and Friday-Saturday 00.00-04.00.
Mackenzie Live
If you are looking to enjoy a night out, dancing away to Greek music, than head to Mackenzie live on Saturday nights, for a real Greek party, with food, drinks, and live music.
For more information call +357 24 663330. Open from 21.00 until early morning.