Try these 5 taverns in Nicosia for good food and music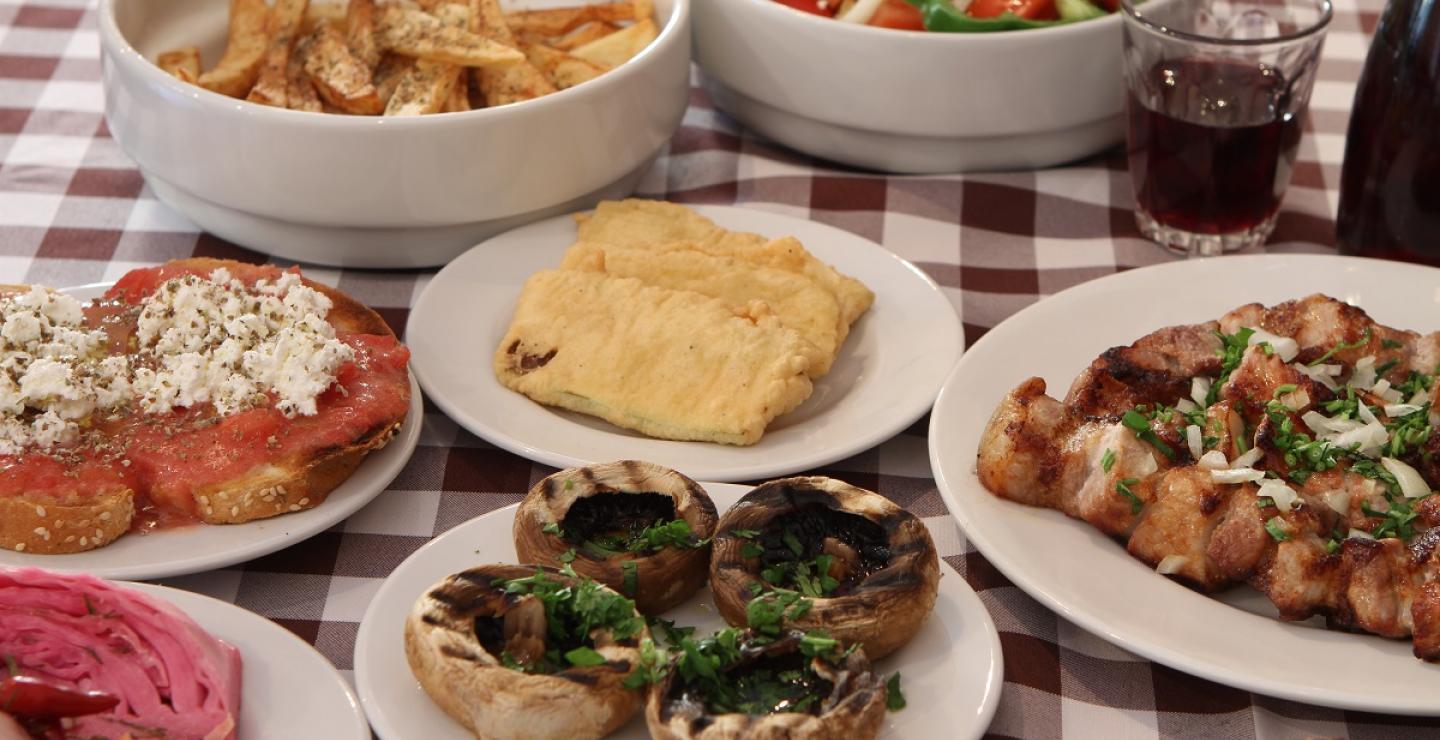 Delicious meze, good wine, and cosy atmosphere are all on your list, when you are looking for a great place to go out this season.  However, there is also one more factor many of us have in mind, when booking the perfect place for a night out, and that is of course music.  These five places combine the best experiences for some time out with friends and company in the capital.
Apantisi
This is a great places to get a tasty serving of souvlaki or sheftalia.  At Apantisi, everything is made with first class ingredients, so you can enjoy authentic Cypriot cuisine at its best. If you go for lunch, try the juicy pork chop or its famous wine-soaked roast, as well as its grilled, delicious ribs, while in the evening, you can enjoy its delicious, traditional Cypriot meze. The venue is intimate and inviting, even for football lovers, as they can combine their favourite meal, while watching their team.
The meze: Apantisi begins its hearty meze with salad and olives, tahini, beetroot and yogurt. Then you will be served zucchini with eggs, feta cheese saganaki, snails, zucchini balls, mushrooms – and then comes the grilled items: halloumi, mushroom, sausage, bacon, souvlaki, sheftalia, and ribs. Meal is €17 / person.
Music: At Apantisi, you will go out with the company for good food and fun. The venue is intimate and welcoming, even for football lovers. Music nights are also organised to combine good meze with quality fun.
INFO: (22382770) 98 Archbishop Makarios, Kato Lakatamia, Nicosia.  Mon-Sat 12.00-15.00 & 17.30-22.30 & Sun 17.30-22.30.
En ti Plateia
Everyone is talking about the cosy tavern En ti Plateia in Agrokipia, just outside Nicosia. The picturesque tavern is a good suggestion for authentic, traditional meze that everyone will enjoy. It has a beautiful courtyard – and there it sets its tables in the summer for its clientele – but it also has a cosy interior with beautiful decor and character that you will enjoy in the winter months. In this traditional tavern you will find well-cooked, homemade and rich meze, and every Saturday the tavern offers live music nights.
The meze: Everything the tavern cooks is from traditional recipes and top quality local ingredients. Their specialties are pork souvlaki, sheftalia, eggplant with feta cheese, lamb liver stew and homemade galaktoboureko or pourekkia.
The Music: You can enjoy the good tavern meze and enjoy it with live, artistic music every Saturday evening. The beautiful melodies of the guitar accompany the music, creating a lovely atmosphere.
INFO: (22634423, 99387524) Agrokipia, Nicosia District. Mon-Sat 18.00-late & Sun & lunch & public holidays.
Theodosis' Tavern
For authentic, Cypriot meze you will go to Theodosis' Tavern. It is located in the village of Pano Deutera, housed in a picturesque, preserved brick building with a beautiful, stone-built courtyard that retains many traditional architectural elements. The tavern has an incredible atmosphere and warmth, especially now in the winter months when the fireplace is lit. Here you will enjoy authentic Cypriot cuisine, with fresh and premium quality ingredients. Grilled meze, home-made dishes of the day, rich portions, as well as all kinds of meze specialties, such as: lamb head, snails in red sauce, mountain mushrooms, wild asparagus with eggs, lamb liver, souvlaki and much more, satisfying the tastes of even the most demanding customers! There are also many choices for vegetarians and those who love traditional desserts such as homemade, fresh galaktoboureko, ravani, and spoon sweets.
The meze: The meze (€17 / person) include grill options, as well as various other dishes: salad, capers / beetroot, fresh yogurt, homemade tahini with lemon, pork and chicken souvlaki, sheftalia, beef or lamb liver, wine-soaked pork on the grill or lamb or pork ribs, and many other seasonal dishes. * The contents of the meze are subject to change depending on seasonal availability.
The Music: You can enjoy the rich meze with live music every Friday, with old laika songs, rebetika and other more artistic sounds.
INFO: (22621537) 36 Arch Makarios III, Pano Deutera, Nicosia District. Tues-Sat 19.00-23.00.
Karvounotsimbimata
The beautiful and sophisticated tavern 'Karvounotsimbimata' is a welcoming and authentic hangout opened in Ayios Andreas in Nicosia with the aim of offering delicious Cypriot cuisine at its best! With traditional décor, tasty meze and a wide selection of delicious meat, grill items, fragrant zucchini balls, rustic sausage with eggs, as well as stuffed mushroom, it has already become a favourite hangout. The warm hospitality and service of its people, the atmosphere itself, which is atmospheric and inspires you, along with its delicious, rich meze, make up the perfect environment to spend a relaxing lunch or an unforgettable evening with your friends.
The meze: At Karvounotsimbimata, you will pay whatever you choose at very reasonable prices. You can eat a rich variety of meze for just €14. You will certainly include its juicy souvlaki, homemade sheftalia, well-made appetizers and fresh salads and of course seasonal, cooked dishes, as well as various souvla delicacies.
The music: Every Friday and Saturday you can enjoy Panikos Charalambous with his guitar and the delicious cuisine offered by the tavern.
INFO: (22260017, 22260018, 99356365) 35 Achaion Street, Agios Andreas, Nicosia. Mon-Sat 12.00-23.00.
Mandri
Situated in a 100-year-old mansion in the beautiful streets of old Strovolos, the Mandri tavern is a constant value for taste and entertainment. The friendly environment and the hospitality of its people are a hallmark of the renowned tavern. Every day they make delicious meze and offer tempting choices for all tastes. Its extensive menu will satisfy anyone who wants to taste a couple of dishes a day. Everything is made from top quality ingredients and always with love and dedication to the dishes of our country. As for the tavern itself, here you will feel at home. Especially now in the winter, when the fireplace is lit, it offers a beautiful, relaxed atmosphere.
The meze: At Mandri, you enjoy the great meze (€16 / person), because everything they bring to the table is made with love. From its famous chicken souvlaki to delicious fresh snails, tasty eggplants, stew and soft pork souvlaki. And, of course, it gives you options to select specific dishes from its extensive menu.
The music: Note that it offers Friday and Saturday music nights with live, quality music to enjoy at the tavern's delicious food.
INFO: (22252282) 27 Archbishop Kyprianou, Strovolos, Nicosia. Mon-Sat from 18:00.