10 exquisite retreats for the holidays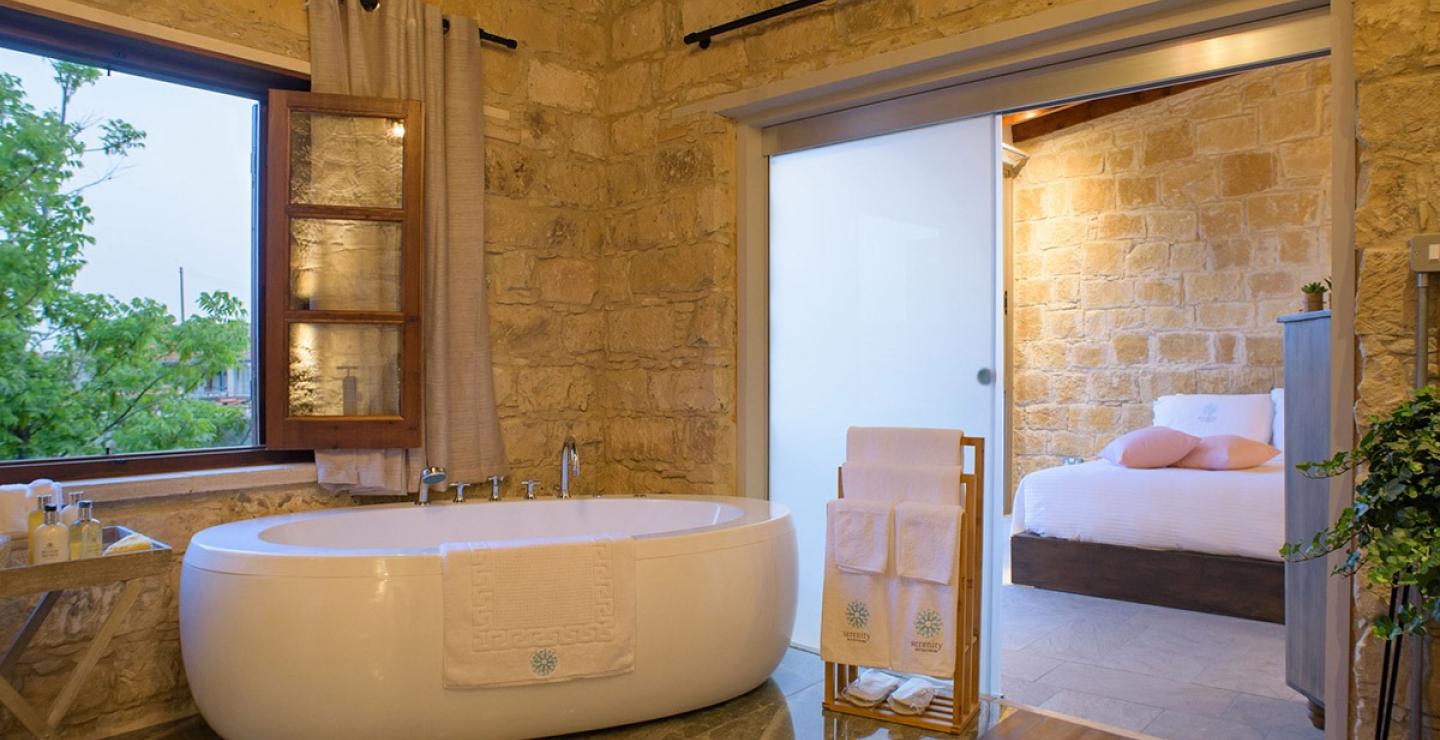 "Bright" rooms with views, a fireplace and all amenities, snow-capped trails, picturesque hamlets with famous wine, and great traditional flavours … are waiting for you this year to spend family holidays!
That's why we came up with ideas to spend a warm Christmas at the most beautiful agrotouristic accommodation, inns, and hotels in rural Cyprus.
Serenity Boutique Houses
Serenity Boutique Houses are the perfect choice for a stay in the village. Situated in Vouni of Limassol, one of the wine villages of Cyprus in a stunning landscape with an impressive climate. The Serenity Boutique Houses consist of two suites, the Suite with garden view and the deluxe queen suite, two separate luxurious suites in a fully refurbished, stone-built three-storey house, lovingly designed to give a unique touch of relaxation and tranquility. The suite with garden view and the deluxe queen suite can be converted into a three-storey house and can accommodate up to four people. SERENITY is located in the centre of the village and the two cafes available in the village are 20m and 100m, respectively, away from the suites. The village's restaurants are also within 300 metres. This offers additional relaxation since car use is unnecessary. Vouni is a great location for tours as it is 25 minutes by car from Limassol, 10 minutes from Omodos village, 30 minutes from Troodos, 20 minutes from Platres. It is worth noting that there are many wineries around the area.
(99 226600) Vouni, Limassol.
Apokentro
In the picturesque green village of Alona, ​​which is built in the hazelnut tree forest, is the new complex of restored traditional houses "To Apokentro". The new agro-touristic accommodation combines genuine Cypriot hospitality with a host of nature activities. The complex consists of two traditional houses, each with its own unique character. The houses are an integral part of the village, combining traditional aesthetics with the comforts of today. Each house has its own name and character. The first house is called "Melanopetra" and has 3 bedrooms, while the second house is "Kerasodendro" which has two bedrooms. However, each can accommodate up to five people.
Info / Reservations: +357 99 757234. Alona, Nicosia
Casale Panayiotis
An innovative hotel, whose rooms are located throughout the village, as they are housed in refurbished homes.
Each of the 41 rooms (with one or two bedrooms) and suites, are refurbished and maintain their authentic character and charm.  Each room is decorated different and is inspired by Cypriot tradition, while at the same time being equipped with heating, television, a mini bar, and in some rooms a hydro-massage and fireplace.
For more information call +357 22 952444. Kalopanayiotis, Nicosia
Oinoessa Traditional Boutique Guest Houses Lofou
Located in the village of Lofou, this agro-touristic retreat is a quaint stone-built structure.
Oinoessa offers small cosy homes and was recently renovated taking into account the traditional architecture of the area.
Tip: Oinoessa has recently added an executive suite, called 'Palatoui' (little castle), which has a fireplace and a Jacuzzi.
For more information call +357 99 373371 or visit their website at www.oinoessa.com.
Oinou Strata Luxury Suites & Wine Bar
It is an inn, restored with great love and infused with a strong love and aroma of wine in Vouni, Limassol.
It has three luxurious and atmospheric suites. Shiraz, Merlot and Champagne, with luxury and comfort in perfect harmony. But it also has a 'small temple' dedicated to fine wine, with separate selections and a dining menu with options (platter, salads, sandwiches and main dishes) that can suit your drink. The mansion's inner courtyard is ideal for enjoying food and drink in a beautiful setting.
(25 944244) Vouni, Limassol.
Polis 1907
Situated in the heart of Polis Chrysochou, the old mansion built in the early 20th century revives and been filled with life again, and expects locals and foreigners to enjoy a true local hospitality experience. The mansion was built in 1907 using traditional methods of the time and a classic architectural line. Originally, it belonged to a wealthy family and over the years it had become a marketplace as it was the largest building in Polis. It is noteworthy that between 1949 and 1955 the building was the first high school of the town, whose graduates still live in the area. This beautiful building was completely renovated, adding to it all the modern comforts while always maintaining the connection with the Cypriot culture in a more modern version. By mixing these elements, tradition combines with discreet luxury to create an excellent result. Each room retains its own character, with a strong sense of local tradition and culture. The Polis 1907 features a beautiful garden, which is the ultimate place for rest and relaxation. On the ground floor of Polis 1907 was the Asian restaurant Akakiko where Asian cuisine harmonically meets the traditional element. Its lovely courtyard offers breakfast and brunch in the morning, as well as coffee and pastries throughout the day.
Ample Places
You will find it in the heart of picturesque Lefkara and it consists of two autonomous traditional houses, the Unique and the Valuable, which perfectly combine the local traditional element with a more modern character, offering relaxation and tranquility. They can accommodate families or couples (up to four people each) and can be rented at the same time. They provide all modern facilities including a kitchen with modern appliances, a dining area, a living room, free Wi-Fi in each room and an inner courtyard.
(99613771) Lefkara.
The Library Hotel Wellness Retreat
Set in beautiful Kalavasos, this quiet haven offers a backdrop of tranquility and beauty for an unforgettable vacation. It is a 19th-century mansion consisting of 11 uniquely decorated suites, with names of poets, thinkers and writers from around the world. The suites have access to the courtyard and beautiful views of the village and the surrounding mountains. However, what stands out is the impressive lounge with its rich library and fireplace, where you will spend many hours of relaxation and rejuvenation.
(24817071) Kalavasos.
Lychnos
Located in the beautiful and quiet Askas, this place is an ideal destination for rest and relaxation. The four Lychnos rooms offer luxurious and comfortable hospitality while maintaining their traditional and warm character. Stay in the Carpenter room, which was a place used as a carpentry workshop, and now offers the guest a warm feeling of wood and stone. A dominating element is the sofa, made by hand from old woods in the house.
(22642641) Michael Koutsofta 1, Askas, Nicosia District.
Marmaras
The picturesque village of Lyssos is located approximately 36 kilometres northeast of Paphos and is built at an altitude of 560 metres. Close to the village of Lyssos is Polis Chrysochou via the Meladia-Peristerona-Steni road, while in the northwest it connects to the village of Pelathousa. In the northeast it is connected with the Stavros tis Psokas, the Monastery of Kykkos and from there to the mountain resorts of Troodos. Recently a new agro-touristic accommodation, 'Marmaras', was opened for the first time in the village. It is a beautiful accommodation that was home to the last century. An almost ruined Cypriot stone house was restored and today has become a real gem. The accommodation can accommodate up to ten people in its three different studios with air conditioning, fireplace, kitchen, shower, TV and wifi. Each of them has its own name and its own characteristics. There is 'Anoi' which can accommodate up to four persons, 'Makrinari' again up to four persons suitable for persons with disabilities and the small 'Palataki' for two persons. The property also has a beautiful, large and modern space for conferences and a view of the sunset are one of the many reasons to book a one-day or three-day stay here and combine it with excursions to the surrounding villages.
Rates from €60 per night.
Info / Reservations: +357 26 221216 / www.marmaras-lysos.com