4 reasons to take trips in Cyprus in October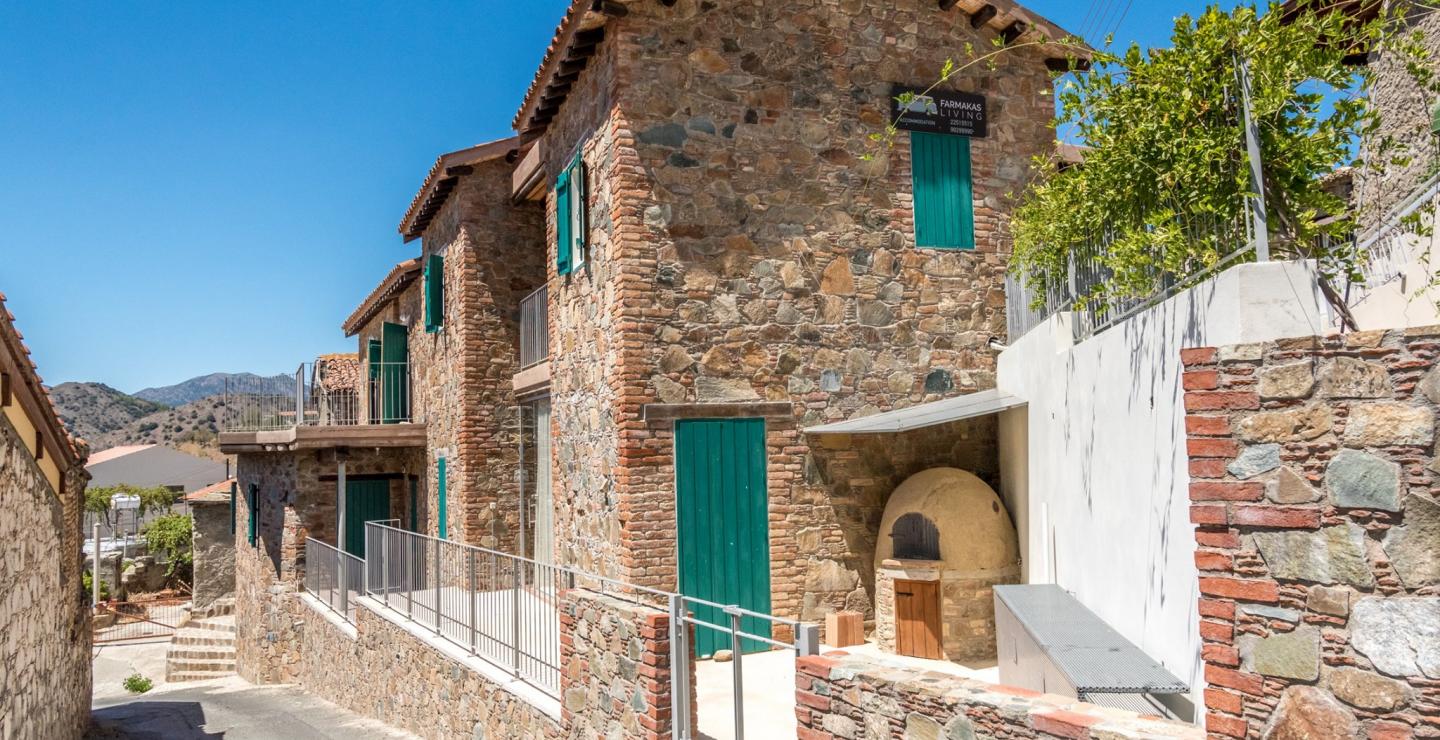 October is approaching and we have many beautiful festivals in the Cypriot countryside honouring and celebrating local products. All this is a great occasion for a hike and a trip to the village to experience a traditional festival and escape to nature.
My Cyprus Travel proposes for October 4 different excursions to 4 beautiful villages of Cyprus on the occasion their traditional festivals. Find out all the details about the festivals, where to eat, where to stay and all you can do in the village.
KYPEROUNDA
Reason: Apple Festival – October 12-13
Kyperounda is the largest mountain village in Cyprus and belongs to the geographical region of Pitsilia. It is just 43 kilometres north of Limassol and 78 kilometres from Nicosia and its northern borders form part of the administrative boundaries of Nicosia and Limassol provinces.
What to see, what to do
Make an appointment for a visit and tasting at the award-winning Kyperounda Winery (25 532043), visit the gigantic church of Ayios Arsenios but also the churches of Ayia Marina, Panayia-Chrysotiros and Timios Stavros, which holds a place as an UNESCO World Heritage Site. Adrenaline seeker will enjoy the unique Adventure Mountain Park located outside the village, which offers a variety of activities. In addition, here you can enjoy a meal at the restaurant, which make dishes with genuine premium ingredients (97 772177, 99 674126) www.adventuremountainpark.com. Take a stroll on the Madari Circular Trail and the new Kafourou-Dimma nature study trail. You can visit the Museum of Rural Traditional Life and Natural History (25 813204, 80 Grigoris Afxentiou Street) and the Agonos Museum (25 813204, 23 Christodoulou Kannaurou Street).
Where to eat
At the Kyperia tavern you will find well-cooked a la carte dishes from local cuisine and tasty Cypriot meze. A place reminiscent of Cyprus of the last century built with stone and wood. (95 532090-99 358167).
At Sto Yiofyri (25 530018) restaurant you can enjoy grilled dishes. A genuine Cypriot souvlaki will be enjoyed at Patsalos Tavern (25 532981), while at Delogo Kyperounta Youth Centre (25 532600), you'll find salads, burgers, club sandwiches, pizzas, waffles, and ice creams.
Traditional Cafe Hovoli (99 812166) offers a hearty roasted coffee in the hovoli, accompanied by homemade spoon sweets and baklava on its terrace. At Ayios Arsenios Cafeteria (97 839321) just outside the church you will enjoy traditional mahalepi with Cypriot coffee and even espresso, and for a drink head to the Dolly Snack Bar (99 662495).
Where to stay
Hotel Livadia
It is the only hotel in the village. The entire resort has been refurbished and recently renovated, yet retaining its mountain air! It features a swimming pool, spa, gym, and a la carte Cypriot restaurant (don't miss Pitsilia's famed fine sausages). (25 532929). You can also choose from the restored gourmet agrotouristic retreats Galini, Cyperus Rotundus, and Kato Chorio (99 812166).
ANOGYRA
Reason: Olive Day at the Olive Park Oleastro – October 6
Anogyra of Limassol is also called the carob village and of course the village of carob syrup. A very picturesque village with traditional architecture and stone-built houses.
What to do, what to see
Heading up to Anogyra among the carob trees, the ruins of the Monastery of the Holy Cross emerge. The church was built in the 14th century, but today, unfortunately, only parts of the frescoes are preserved. Anogyra has a Carob Museum and a "Black Gold" Pasteli Factory, as well as a "Traditional" pasteli shop by Mrs Despoula Georgiou (25 221500/99 765078) which produces excellent quality pasteli, and carob syrup. It's worth buying and enjoying.
Where to eat
The Olive Park where the Olive Festival will take place has a restaurant. There are three other restaurants in the village. A traditional tavern, 'Anogyra' (99 795468) offers traditional meze and the restaurant 'Nicholas' (25 221584), which is just outside the village. The village has also opened a restaurant and workshop for essential oils, the 'Anagyris Essential Oils Park & Restaurant' which also has a restaurant 70 000159.
Where to stay
At the core of the community today is a traditional eight-bedroom apartment complex where one can stay and enjoy a relaxed, different, and traditional hospitality. Nicolas & Maria Cottage with its beautiful courtyard (25 331963) is the only choice for accommodation in Anogyra.
KOILANI
Reason: Afamia Festival 2019 – October 5-6
You will find the village near the west bank of the Kryou River (tributary of Kouris), at an altitude of 820 metres and 36 kilometres northwest of Limassol. To get there you have to get out at the exit for Erimi and go up to Krasohoria, passing through Pano Kyvides and Vouni.
What to do, what to see
Leaving the Monogenous Church with its priceless relics, do not fail to go down to the Wine Museum. This museum, housed in a beautiful old building, displays tools related to planting and growing the vine, as well as others used for the processing of grapes and the production of various products, while there you can also see a faithful representation of an old Cypriot house. The main church of Koilani, located in the centre of the village, is dedicated to Panayia Eleousa, and there is also the Ecclesiastical Museum with 13th-century icons as well as 18th-century icons! The third church of the village, located 3 kilometres away (halfway to Pera Pedi) and built in the idyllic valley of the Kryou River, and is dedicated to Ayia Mavri. Take a stop under the shade formed by the spectacular oak tree and if you are lucky you can also enjoy the small waterfalls created by the rain on the slope across the hill. A tour through Koilani must definitely be completed with a visit to one or some of the famous wineries of the village. Specifically, there is the winery of Ayia Mavri (25 470225), Vlasides (25 471482, 99 441574), Vardalis (25 470261) and Kostas Erimoudis (25 334305).
Where to eat
In Koilani, you will find very good taverns. The first, 'Ayia Mavri' (25 470542), is opposite the chapel and will be open Saturday and Sunday at noon. Saturday it serves cooked and grilled souvla, while Sunday it serves steak with meatballs, koupepia, meze and salad for 14 euros per person and lamb souvla (15 euros) and pork with 12 euros. The other tavern 'The Three Pines' (25 470046) serves lamb souvla with 15 euros per person and pork with 12 euros and kleftiko for 13 euros. You can also sit down at one of the 'Korineon' (99 608196), 'Xenios K. Rotis' (96 512775) and 'Cultural Centre' (25 470542) for meals, which are all located in the village, and there is also a snack bar 'Skoulias' (25 470107) in the park.
Where to stay
Included in the village agrotourism plan and fully-equipped are the Mavrikios Village Apartments (25 565763, 99 642763), available for rent for €60- €65 (for two persons per night). There is of course the choice of Koilani Gardens (99 604004) with 9 studio apartments, all with kitchenette (one of them even has a fireplace).
FARMAKAS
Reason: Festival of Local Products 'Kopiaste' – October 27
Farmakas is an idyllic village in Cyprus and is situated in the Troodos Mountains. Arriving there after a journey of about 40 kilometres from Nicosia, you will find a huge parking lot and next to it is the village church, the community council, and the two Farmakas cafes.
What to see, what to do
Visit the main church of the village dedicated to Ayia Eirini. It is located in the centre of the village next to the café. It is built of stone and in the shape of a three-aisled basilica with a dome, being one of the few buildings of its kind in Cyprus. Learn about a new winery recently added to the community map. This is Santa Irene (22 515515), a modern winery that has all modern winemaking and bottling equipment.
Where to stay
Farmakas Living
The 5 agrotouristic lodgings are scattered around the village and successfully combine tradition with luxury. They are ideal for accommodating families, couples and single seekers of the agrotourism adventure. Note that a breakfast is served, which you can prepare in the fully equipped kitchens, picking up fresh products from the town (22 498150).
Where to eat
Ierambelos, Pharmakas
The restaurant of the Santa Irene winery deserves a try for its Sunday rich buffet, with highly thoughtful tastes of both Cypriot and Greek as well as international cuisine, made with fresh ingredients, most locally-sourced. In the end, leave room for the fantastic Greek milkshake. (22 515515).