5 Public Art Works Revealed in Limassol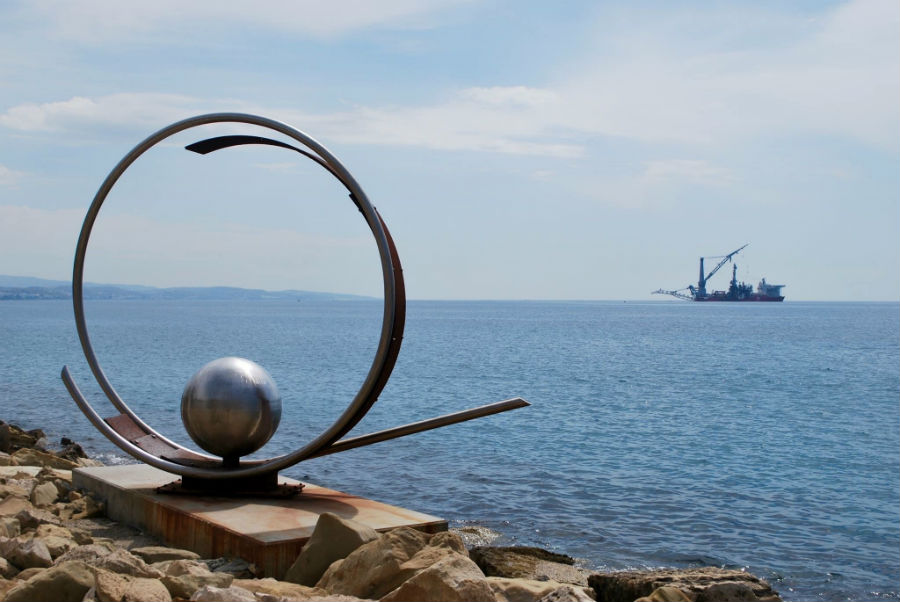 Public art works and sculptures can reveal notions about the city they are placed in and even give us a better understanding about a country's culture and history.
These five sculptures found in public spaces set on the sea front of Limassol each depict a different story. By getting to know the artists and ideals behind each of these sculptures, we hope you enjoy getting to know Limassol a little better!
'Frozen Wave' by Victor Bonato
The sea front of Limassol is adorned with numerous public art works which were created during sculpture symposiums throughout the years. In 2001 and at Limassol's 3rd Symposium, four artists participated, including the German artist, Victor Bonato.
Bonato's piece stands out as it is located on a rocky arrangement directly next to the sea. The spherical shape looks out to sea and is made of stainless steel.
'50 doves' by 50 Cypriot artists
Located on the grounds of the Limassol Medieval Castle in the heart of the old town, the modern sculpture entitled '50 doves' was created by 50 Cypriots artists with mixed materials.
The art work '50 doves' was commissioned by the Cyprus Chamber of Fine Arts (E.KA.TE) and the Limassol Municipality on occasion of the celebration of the 50th anniversary of the Democracy of Cyprus.
'Birth' by Maria Kyprianou
On the occasion of the 2nd Sculpture Symposium in Limassol in 2000, six artists, four from Greece and two from Cyprus, created works of art that are displayed on the Limassol sea front.
The acclaimed Cypriot painter and sculptor, Maria Kyprianou, created a piece entitled 'Birth' that uses the stereotypical symbol of life, the egg, as a reference to gestation and time.
'Twinning' by Philippos Yiapanis
Philippos Yiapanis is one of today's most prominent Cypriot sculptors who primarily works in bronze.
Located on the Triandrias Square in Mesa Geitonia in the Limassol district, stands his sculpture entitled 'Twinning', that was commissioned by the Mesa Geitonia Municipality on the occasion of its twinning with Triandrias (Triumvirate) Municipality of Thessaloniki in Greece in 2009.
Inspired by the female figure, birds and the human need for freedom, the artist's sculpture depicts the forms of two birds.
'The tree of knowledge' by Lia Lapithi
Well established and internationally recognised fine artist Lia Lapithi created 'The Tree of Knowledge' for the Ayios Spyridonas High School in Kato Polemidia, in the Limassol district.
After its commission, this modern sculpture was placed at the entrance of the high school in 2006. The initiative was taken after a 1992 state law required state entities to invest 1% of their annual budget in artworks that would consequently be placed on their premises.