8 Super Beach Bars in Famagusta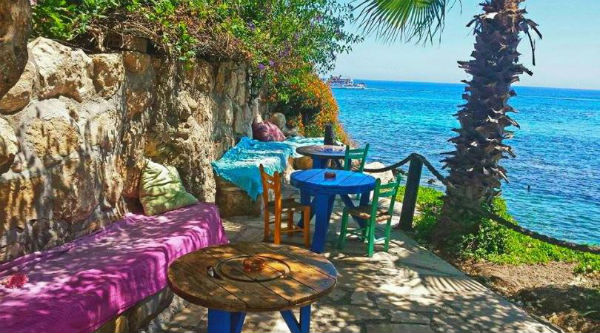 Summer means Beach! And what better way to enjoy summer than to spend your entire day at the beach? Experience unique summer moments at the following beach bars in Famagusta!
Ayia Napa

BeachHouse Dome
Part of the Dome Hotel, you will find this gem on the Makronissos beach. It features white gazebos, wooden sun beds and rattan umbrellas. In the background, you will hear lounge, jazz and funky soul music playing. If you get hungry, enjoy a delicious Caesar salad, one of their homemade burger, snacks or even sushi, accompanied with one of their tasty cocktails. We highly recommend the BeachHouse Colada!
Tip: This beach bar stands out for its fantastic daybeds set aside the clear waters!
Address: Dome Hotel, Makronissos Beach. Tel: 23 721 006.
Cafe Del Mar
On Sandy Bay Beach in Ayia Napa, you will find the perfect place to relax from morning till afternoon and then have some fun with a summer party. Reminiscent of the Greek islands with white and blue decor, Café Del Mar offers good food, including salads, burgers, pizza, pasta, seafood and much more. Try the Greek Burger with fetta cheese, tomato and yogurt, accompanied by the Cafe Del Mar cocktail with vodka, mango, strawberry puree and cranberry juice.
Tip: International DJs are often invited to set the vibe.
Address: Perneras 19, Ayia Napa. Tel: 99 631 127.
Levels Beach Bar
Set on the beach of the Asterias Hotel is this exotic beach bar known for playing relaxed music on a daily basis. They serve coffees, cocktails and food while you enjoy the tranquilly, relaxing by the sea. On the menu you will find simple sandwiches, salads and main dishes. Don't forget to accompany your food with a gin lemonade!
Tip: Book a gazebo with white pillows set on wood and palm leaves. Here they offer seasonal fruit and water bottles.
Address: Hotel Asterias, Nissi Avenue, Ayia Napa. Tel: 23 201 016.
Marcello's Beach Bar
If you are the relaxed type and you like simple summer backdrops accompanied with an ice cold beer as you get out the sea, this is the place to go! Marcello's is small, wooden beach bar, with a wonderful, relaxing atmosphere, located in front of the Melissi Hotel. Make yourself comfortable and have a snack, ice cold beer or one of their delicious cocktails.
Tip: Have a Brandy Sour or their house special 'This is Marcellos'.
Address: Kriou Nero 4, Ayia Napa. Tel: 97 828 554.
Nissaki Ayias Theklas & Blu by the Sea
If you want to get away from the bustling beaches of Ayia Napa, visit the sandy, beautiful beach of Ayia Thekla in Sotira, and relax on the classic sunbeds that are provided. At Nissaki, you will find morning coffee and breakfast, while at noon and in the evening, you have a choice of seafood, grilled meals, salads and more. Their fish meze is remarkable with over 20 dishes included in the culinary experience!
Tip: Cocktails are served on the beach too!
Address: Ayia Thekla Beach, Sotira, Ayia Napa. Tel: 23 725 151.

Nissi Bay Beach Bar
One of the most famous beach bars of Ayia Napa located on one of the most beautiful beaches of Cyprus, this beach bar is ideal if you love parties, fun and water sports. You will have to go early if you want to find an umbrella and a sunbed as it fills up quickly. In the morning you can pick up your coffee and at noon your midday snack. Try the cocktails served in a real pineapple with the heart of the fruit at the bottom.
Tip: Every day, from noon onwards a beach party is in full swing!
Address: Nissi Beach, Ayia Napa. Tel: 23 723 310.
Sirena Bay
A small hidden treasure between Pernera Beach and Ayia Triada in Protaras, this beach bar offers a bohemian and relaxed atmosphere. It is set within vibrant greenery with colourful tables, fine music and an aesthetically pleasing decor. The kitchen offers snacks, classic Cypriot dishes, burgers and platters to share with friends.
Tip: When the sun sets there is live music, sometimes jazz vibes or choice of guest DJs, that can be accompanied with their marvellous Citrus Rosa cocktail.
Address: Sirena Bay, Protaras. Tel: 97 776 922.
Protaras

Antamoma Events Venue & Chill Out Bar
The Golden Coast Beach Hotel in Protaras created this very cute seafront beach bar overlooking a small bay. Antamoma is rich in colour and plays relaxed music. It has the potential to lift your mood with hookahs, refreshing cocktails and cheese and fruit platters.
Address: Pinias 64, Protaras. Tel: 99 155 893.