Soaking up the Sun at Cyprus' 10 Best Beach Bars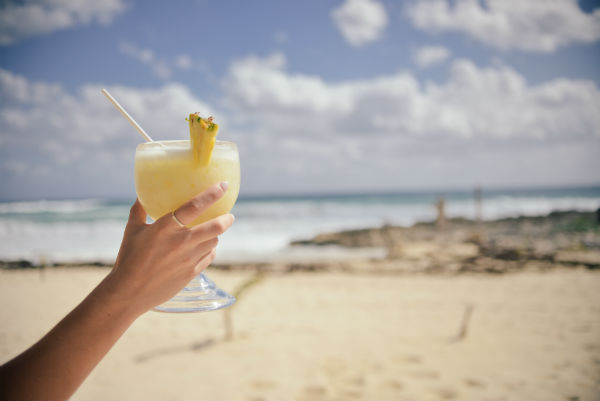 Some of your summer's memorable moments will no doubt be experienced at one of the island's many beach bars.  My Cyprus Travel has selected the 10 best Beach Bars, just to make sure that you don't miss the opportunity to experience these unforgettable spots, wherever you may find yourself on the island!
Whether you are in Protaras, Ayia Napa, Larnaca, Limassol or Paphos, you will find infinite choices in the island's seafront bars. Yet these 10 are our ultimate favourites. We hope you enjoy them as much as we do!
Ayia Napa and Protaras
Aeyalos Beach Bar
Located right in front of the Aeyalos Fish Tavern, this small beach bar is spread across a creek filled with greenery and is ideal for a relaxing swim with the entire family. The white sunbeds offer the perfect setting for a cold morning coffee or an ice cold beer for a sundowner.
Tip: If you're hungry, you can sit at the fish tavern and enjoy your favourite fresh fish.
Address: Vrysoudi 79, Agia Triada, Protaras. Tel: 99 988 600.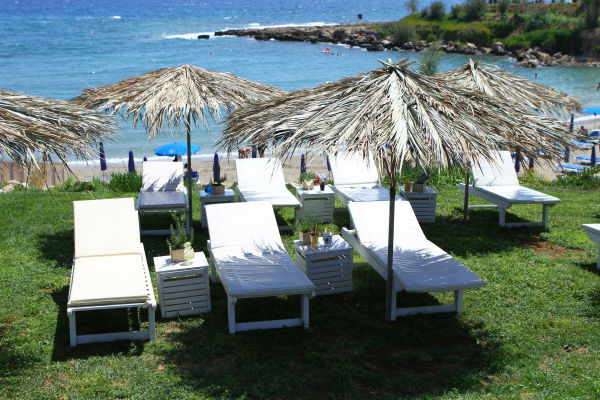 Aeyalos Beach Bar
Yianna Marie Beach Bar
A new comer as a beach bar, Yianna Marie Beach Bar offers an uplifting atmosphere with music, cocktails, snacks, cheese platters, cold cuts and an excellent sushi platter for two. A perfect place for big groups as well as families, this beach bar stands out for its chic wooden design and its black and white tones.
Tip: Fridays and Saturdays are more upscale with DJs and a party atmosphere when you can indulge in a Mediterranean flavoured gin-based cocktail based!
Address: Lefkolas 21, Protaras. Tel: 23 814 446.
Koi Beach Bar
An alternative beach bar to relax in and enjoy the summer during the day and in the evening, the bar transforms into full blown bar with loud music and parties. Koi is found on the premises of the Capo Bay Hotel and offers comfortable sunbeds with huge white poufs and stands out for its excellent cuisine with Mediterranean and Asian flavours.
Tip: The cocktail menu is selective with signature cocktails that blend perfectly with the sushi selection offered. With your favourite sushi, try the house of passion margarita cocktail with mango and tequila.
Address: Capo Bay Hotel, Protaras. Tel: 23 831 101.
Kaliva on the Beach Bar
A beautiful beach bar set on the Pantachou beach in Ayia Napa, Kaliva serves coffee and snacks in the morning and an array of international cuisine dishes for lunch and dinner.
The beach bar also serves meticulously made cocktails, with a playlist of chill out music as a backdrop.
Tip: Kaliva on the Beach offers a free beach towel if you forget to bring your own and has a selection of comfy loungers and gazebos.
Address: Sklavou 12, Pantachou beach, Limanaki, Ayia Napa. Tel: 23 723 023.
La Isla Beach Bar
Found close to the well-known Guaba Beach bar, this is another beach bar which is tailored for party animals! The beach, which stretches in front of the bar is ideal for swimming, while in the afternoons it stands out for its uplifting mood, with music by resident and guest DJs. On the menu, you will find salads, seafood, platters, grilled foodstuff, steak and pasta. Our favourite is the three different kinds of ravioli stuffed with ricotta cheese!
Tip: If you plan to stay up late, make a reservation near the pool where everyone gathers when the music gets louder.
Adress: Amathountos Avenue 17, Limassol. Tel: 25 310 310.
PlusSea Lifestyle Bar
Who said that red mattresses for sunbeds and vibrant red umbrellas aren't ideal for a beach bar? Try the fresh sea bass fillet with olives, capers, fresh tomatoes and aromatic herbs accompanied with steamed rice and vegetables (€ 21) or salad, their grilled meat and snacks.
Tip: Relax here in the afternoon with a tasty cocktail or a glass wine from the rich wine cellar.
Address: Amathountos Avenue, 5, Limassol. Tel: 25 634 995.
Ammos Beach Bar
Around since 2005, the concept behind the Ammos Beach Bar was inspired by beach bars in Miami. The Ammos Beach Bar is also the reason why McKenzie Beach has become one of Cyprus's hot spots.
Tip: Follow its Facebook page and find its events featuring international DJs from around the world.
Address:  Makenzie Beach, Larnaca. Tel: 24 828 844.
Kastela Beach Bar
Kastela is an award winning beach bar with wooden sunbeds, soft pillows and rattan umbrellas. Enjoy the bar's iced coffees, juices, beers, cocktails and snacks to whet your appetite after a dip in the sea.
Tip: This beach bar is simple and ideal for beach explorations.
Address: Kastela Beach, Tasou Mitsopoulou, Larnaca. Tel: 7000 2526.
Sea You Beach Bar
Found on the Kissonerga beach, this impressive beach bar is impressive with an exotic decor, ideal for young couples and couples. You can spend the entire day hanging out on a lounger with a Raspberry Mojito and a nibble from its reputable menu with snacks and Mediterranean dishes.
Tip: The beach beds on the sea are free of charge!
Address: Kissonerga beach, Paphos. Tel: 96 234 490.

And… in the Nicosia district!
Grape by the sea Beach Bar
Since last summer, this tropical beach bar on Omega Beach in Pyrgos is the ideal spot! The scenery, the small bar with its grapevine, the clear waters and its tasty menu offers steaks, burger, chicken and of course, fresh fish, cocktails and alternate events. Lounge in a hammock and try its unique Grape mojito.
Tip: You don't have to carry sun umbrellas with you as the sunbeds and umbrellas are free of charge!
Address: Omega Beach, Kato Pyrgos. Tel: 99 117 656.