Enjoy farm to table brunch at these 4 places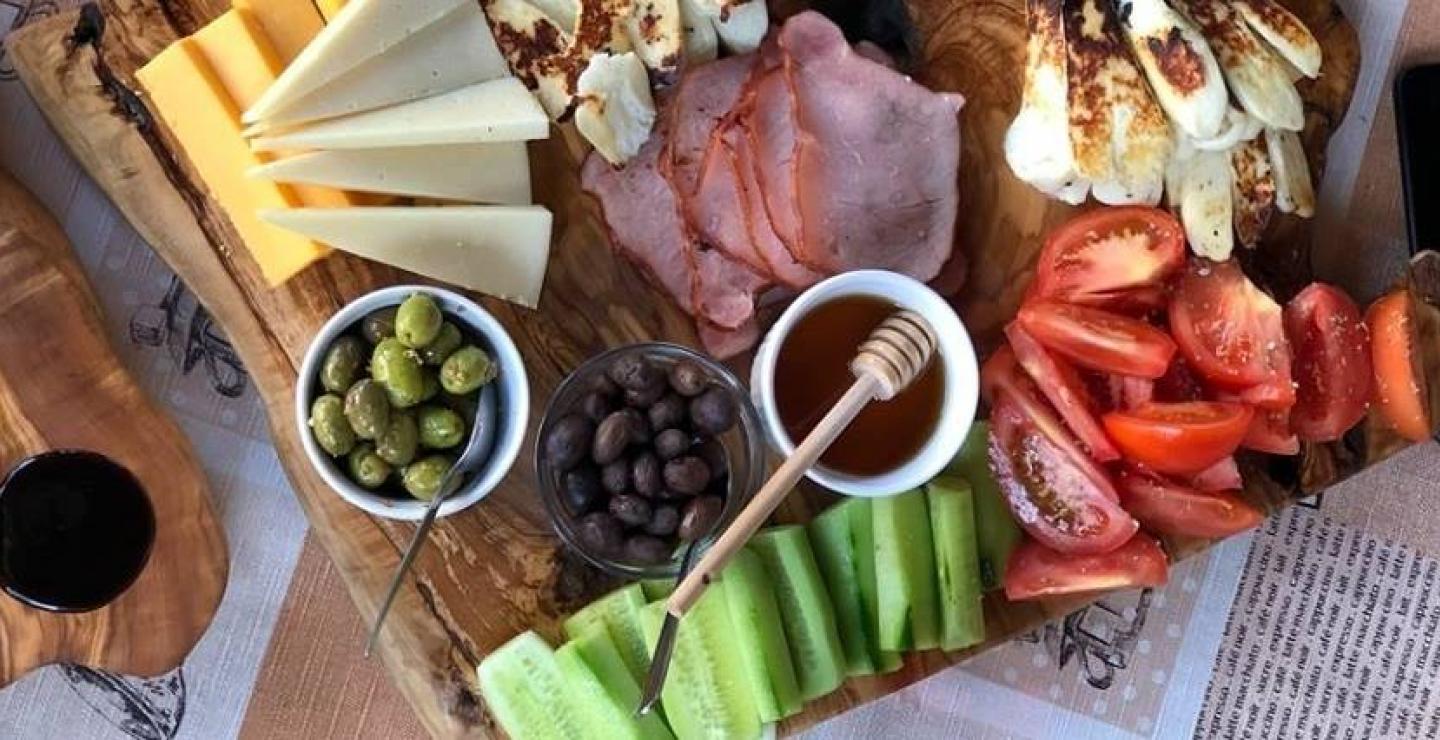 On weekends and holidays, brunch is a favourite past-time in Cyprus.  And there are many places in cities around the island that have made the not-quite lunch, not-quite breakfast meal part of their philosophies.
But there are some very interesting options outside the city. Brunch away from the bustling city centre, be it a village or even a retreat a few kilometres away is a great way to spend some time surrounded by nature.
However we searched and found 4 new, unique breakfast and brunch options surrounded by nature all over Cyprus.
Brunch at 4873 in Dymes
And just when you don't expect to discover a magical place, to enjoy a meal, somewhere in the area of ​​Pitsilia in the lush greenery of the area you will find the picturesque village of Dymes. For those looking for new and different places, it's time to get to know this little shop in the village of Dymes, which serves delicious brunch dishes made every Sunday with love and affection. The store is named 4873 and is housed in the Youth Centre of the village. A picturesque stone and wood shop that exudes the tranquillity of the village and the Cypriot countryside. Here, besides your brunch, you will enjoy the wonderful view of the forest that surrounds you. The Sunday breakfast is served every Sunday morning from 10.00-17.00 and includes our favourite Cypriot breakfast of course with organic produce from the area. You will taste delicious Cypriot, Pitsilia sausages, freshly cut potatos, traditional pastries, delicious apple pie and freshly squeezed orange juice or coffee of your choice. The shop is open on Fridays and Saturdays, serving coffees and main courses (burgers, steaks, chicken fillets, etc.).
Info: 99 984088.
A new place for brunch in Omodos
The famous Fotini's Arkatena recently opened a new shop in the village of Omodos, where the famous rusks are the protagonists. But they didn't stop there. Following the trend of the season, which wants brunch to be the ultimate weekend meal for everyone, they have laid out tables on the pedestrian street, created a lovely interior courtyard at the back of the store and created a platter menu! Three new platters – along with the famous Fotini Arkatena are served in Omodos for breakfast and brunch, which are hard to resist. The first platter (which we would call traditional), includes hot arkatena or toast, jam, honey, halloumi, sausages, olives and eggs and costs €10. The second platter is intended for those who follow a healthier lifestyle and includes fresh anari cheese, nuts, dried, and fresh fruit, while the third is for chocolate lovers as it includes black or white chocolate arkatena and more. But you can choose the products you want to enjoy by creating your own platter. Finally, choose coffee or juice to get the most out of your day. The brunch is served on weekends and public holidays from 10am to 4pm.
Reserve a spot at 99 284201 & 97 801110.
Mr Takis serves brunch with products from his garden in Taskkistra
If one day the road takes you to Kykkos Monastery, we suggest you drive down the pine-covered mountains a little further, and 10 minutes to Tsakkistra. There, once you turn the village, you will find on your right, on the hillsides, Mr Takis's coffee-taverna 'Tsakkistra's Tavern'. Here, home-made Cypriot dishes are served daily by his wife and a very good cook, Mrs Theophano.
But the surprise this summer, was made by his children who, although living in Nicosia, come to the village on weekends to prepare and serve a delicious brunch with Cypriot-inspired dishes. Andri as a food technologist, Eurydiki as a chef and pastry chef, Thekla as a chemist and excellent cook, and Marios and Michalis, have all put their talents on the menu.
When you sit down, they bring you a glass of freshly squeezed orange juice. Then comes the warm, flavoured filter coffee along with a platter that includes three homemade jams of their own making, honey from their beekeeper friend, sweet tahini, cinnamon and village nuts, anari and halloumi from a cheesemaker friend, and tomato and cucumber from their backyards.
Accompanied by this delicious feast are the hot slices of French baguette with flavored butter, the freshly baked bun enriched with aromatic herbs and a homemade cake made by themselves, sometimes marble, sometimes chocolate, sometimes lemon, and always served with some sauce. Then a plate of two fresh fried eggs from the village chickens arrives at the table – served as an omelette, as well as potatoes, tomatoes and spicy peppers, bacon from local producers and German sausages.
In the end they will offer you the dessert of the day, which can range from palouze and mahalepi to yogurt cheesecake etc. And all for only € 10.
Information:
> For the tavern (22 942707, 99 271296) Centre of the village opposite the medieval church of Ayios Nikolaos, Tsakkistra, Nicosia. Mon-Sun 9.00-23.30.
> For Brunch (97 713209, 97 858446, 96 117689) every Sat & Sun and holidays from 10.00-13.00 or even by phone appointment any day. Booking is always a must!
Aristoklis Brunch
In the coming autumn days, we want to find lush gardens, under vineyards and next to tall trees, but away from the city. And fortunately for us, our villages hide great surprises! Like the one just waiting for you, across the threshold of the Aristoklis traditional brunch in the beautiful Pachna of Limassol. It is a beautiful place of relaxation with the fragrance of basil, gardenia, hydrangeas and jasmine in the village of Pachna in Limassol. The Cypriot breakfast here includes freshly baked bread, traditional halloumi, cheese, eggs, lountza along with coffee, juice or mountain tea (which you will find in a wide variety). Apart from its brunch, in the shop menu you will find platters of wine, beer and zivania for the evening.
Info: 99 612842, 99 400226. 16 Griva Digeni, Pachna, Limassol.