International performances coming to Cyprus this autumn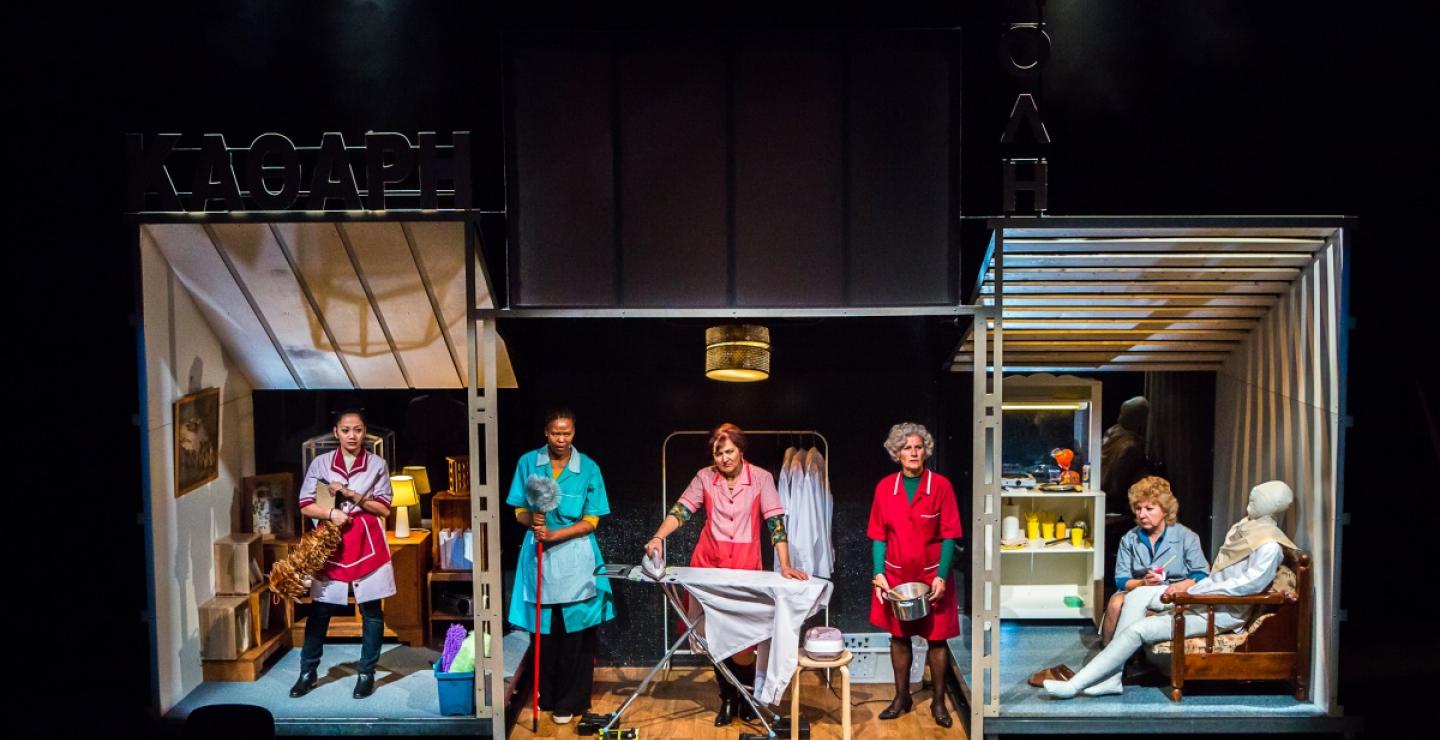 We will have the opportunity to enjoy large productions from abroad in Cyprus this autumn. But what definitely stands out and comes to bring an international air to our island is the newly-established Nicosia International Festival with an unbelievably impressive program with over 20 major performances and other events focusing on the capital's renewed Municipal Theatre.
As part of the festival, we will have the opportunity to see the latest work by the internationally renowned choreographer Akram Khan and other great works from theatre, contemporary dance, and music.
At the same time, until the beginning of October, the International Kypria Festival and the Axiothea Festival continue with performances from Greece and abroad, while fans in Cyprus are looking forward to Eros Ramazzotti in November, or the legendary musical Cats coming to Cyprus in December from London.
Pinkfong Baby Shark Live Musical
Pinkfong's official theatrical performance with Baby Shark, Pinkfong Baby Shark Live Musical is an exhilarating theatrical adventure, featuring the acclaimed original favourite song "Pinkfong's Baby Shark" with an unprecedented 2.8 + billion views on YouTube, Pinkfong's most popular English children's song. Young and old have the opportunity to dance and sing authentic English songs, along with their favourite heroes. The show is a musical-themed show with spectacular costumes, colourful backdrops and a state-of-the-art video wall. A show that is a fun learning process for preschoolers and young children.
Friday Sep. 20 (17:00), Saturday Sep. 21 (11.00 & 16.00), Friday Sep. 27 (17.00), Saturday Sep. 28 (11.00 & 16.00) Latsia Municipal Theatre, Nicosia / Sunday Sep. 22 (11.00 & 16:00) Larnaca Theatre, Sunday Sep. 29 (11:00 & 16:00) / Tue Oct. 1 (11:00 & 16:00), Paphos Markeidio Theatre. Tickets: www.soldoutticketbox.com.
Julius Caesar
A performance of Romeo Castellucci
The celebrated Italian author and director Romeo Castellucci comes to Cyprus for the first time, within the framework of the 'Kypria' International Festival 2019. The performance-dramatic intervention Julius Caesar was first staged in Bologna, in March 2014, as part of the tribute to the director entitled "And the Fox said to the Crow: a lesson in general linguistics". It consists in a condensation of the emblematic performance Julius Caesar, staged in 1997, one of the most ground-breaking and subversive art creations of the Societas.
The "spared parts" will bring "on stage", one after the other, three historical figures of theatre and politics: the mysterious Mr. …vski, evoking the father of dramatic art Constantin Stanislavski, the silent and aged Julius Caesar, and the masterly orator Mark Anthony, played by an actor who has undergone laryngectomy.
Through the means of technology, the spectators, as if peeking through a keyhole, will delve into the corporeal interior of the actor, in order to discover the production mechanism of the human voice and speech. The heroic coming together of an internal struggle takes place on stage: the rhetoric of words recedes before the rhetoric of the body, which becomes the sole vector of true discourse. Senses and meanings are gradually bleached, through the very attempt of their verbalization. The performance is centred on questions concerning rhetoric, the art of acting, the power of persuasion, and the omnipotence of hollow political discourse.
Tuesday Oct. 1 (18.00 & 20.30), Wednesday Oct. 2 (18.00 & 20.30) & Thursday Oct. 3 (18.00 & 20.30). Tickets: www.soldoutticketbox.com.
'Niyar: A Paper Fairy Tale' from Berlin to Cyprus
"NIYAR – A Paper Fairy Tale" is a representation of paper objects and dolls, without words. A frustrated artist sits in a pile of crumpled papers. The artist rejects any new ideas that are recorded on paper creating an even bigger pile. Where, in the midst of this creative crisis, life is suddenly born. A paper figure appears, which leads the artist on a poetic journey of love, loss and the guts needed to fly. "NIYAR" [Hebrew: paper] was created by Maayan Iungman, an Israeli artist, actor, and playwright who lives and works in Berlin. Maayan uses a variety of techniques and materials in her work, building unique fantasy worlds to their fullest detail.
Friday 27 & Saturday 28 Sep. | New Thok Building, Nicosia, 18.30. Tickets: www.tickethour.com.cy & ACS Couriers.
Cláudia Madur from Portugal at Axiothea
The now famous Portuguese fadista Cláudia Madur, who has written an international track in recent years with dozens of concerts in Europe and America, is returning to the Axiothea Cultural Festival where she first performed in 2012, to enchant audiences again with her captivating voice, conveying the sense of nostalgia, craving, pain, happiness, and love that fado expresses and which is summed up in the Portuguese word saudade.
Monday 30 Sep., Mansion of Axiothea Street, Nicosia, 20.30. Info 22 894531-2.
Eros Ramazzotti in Limassol this November
He is the most famous and successful Italian artist in pop music. His success has translated into millions of record sales, countless awards and collaborations with top names such as Carlos Santana, Cher, Tina Turner, Andrea Bocelli, Joe Cocker, Luciano Pavarotti, Ricky Martin etc. which have kept Eros Ramazzotti at the top for three decades. His latest album "Vita ce n'è" is also the reason for the current tour, which brings him to our island and specifically to Limassol for a great concert.
Thursday 7 November, Spyros Kyprianou Sports Centre, Limassol. Tickets: www.soldoutticketbox.com.
1st International Nicosia Festival
The Nicosia Municipality presents a new institution in the culture of both the city and the whole of Cyprus, the 1st International Nicosia Festival to be held at the Nicosia Municipal Theatre from October 13th until November 24th. The Festival, among other things, includes very important international as well as Greek productions.
A chocolate factory in Cyprus
After a very successful trip, with an incredible record of visits to Athens, Thessaloniki and Rome, the aroma of the award-winning theme park reaches Cyprus. From November 2019, and for three whole months, the Nicosia International Exhibition Centre will be full of biscuits, sweets, and chocolates. Impressive constructions of the fairy tale-like "Factory and Museum of Chocolate" have begun, and the exhibition will feature Europe's largest Chocolate Waterfall (with 1,200 litres of real chocolate), giant chocolates and biscuits, are just some of the delightful treats visitors will enjoy.
November 2019, Cyprus International State Fair, Nicosia. www.ErgostasioSokolatas.gr
Cats the musical from London to Cyprus
Andrew Lloyd Webber's timeless musical masterpiece, Cats, comes to Cyprus for just one week this Christmas directly from London. The performances will be performed live by The West End Theatre Orchestra. The work is based on a poetic collection of T.S. Eliot. The stunning setting is a huge dump, where Jellicle Cats gather to play. It's the night of the established annual Jellicle Cats dance and their leader, the old Deuteronomy, will announce the name of the reborn cat and live a new life in the Heavyside Layer. The announcement will be made just before dawn. While waiting, cats have fun telling old stories about the most famous and popular cats in their breed.
Monday 30 Dec. 2019-Sunday 5 Jan. 2020 | Pattichio Municipal Theatre, Limassol. Tickets: www.soldouttickets.com.