3 Week Itinerary
Days Out
Itineraries
Cyprus
Overview
A three-week journey will provide you with the most genuine experience of Cyprus. Take your time to explore all of its major cities, the authentic mountain villages, its archaeological sites, museums, national parks and some of the best beaches. By the end of your exploration, you will have captured the soul of this wonderful island.
Day 1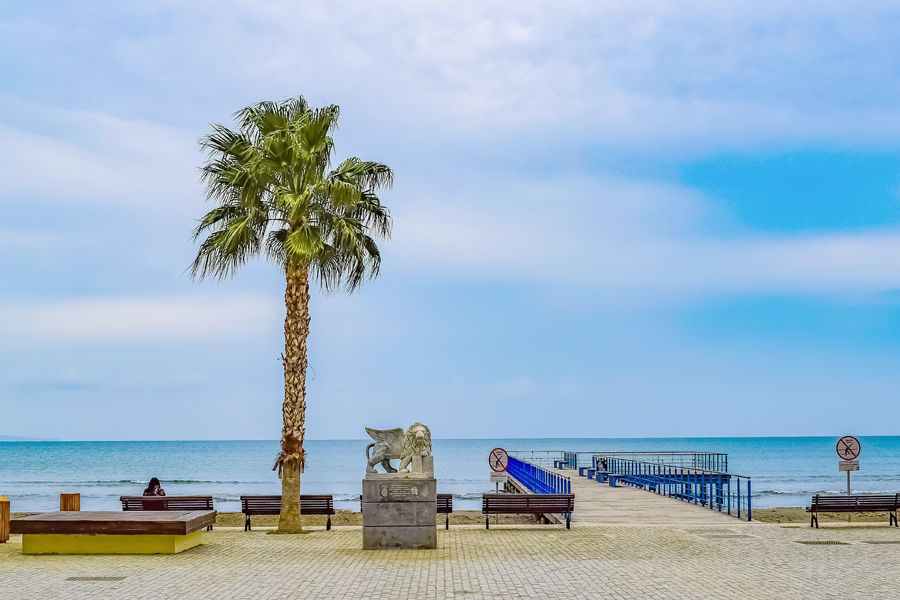 Larnaca
Larnaca is a seaside city where east meets west. Begin your exploration at the lovely palm-tree lined seaside promenade that begins at the city's main Europe Square. This promenade, affectionately called "Finikoudes," offers a warm welcome to all visitors.
Adding a dash of color to Larnaca are the old colonial buildings which were built by the British Administration in 1881 and now house galleries, museums and other cultural services. Nearby is the Pierides Foundation Museum that is worth a visit. Its exhibits will take you on a journey from the Neolithic era to medieval times.
Day 2
Larnaca
Start the day with a visit to the ancient city of Kition, founded in the thirteenth century BCE and then to the Archeological Museum where there is a priceless collection of ancient artifacts.
Then enjoy a walk across town to visit Ayios Lazaros Church, built around AD 900 on the site of St. Lazaras's grave. Afterwards, visit the nearby Larnaka Fort and Medieval Museum and then take a stroll to the old seaside Turkish quarter where traditional homes line narrow streets.
For a spectacular sunset, take a drive just outside of Larnaca and visit the Hala Sultan Tekke Mosque, located on the banks of a salt lake, where, in season, flamingos make their appearance.
Day 3
Nicosia
Head north to Nicosia, whose old town is enclosed within Venetian walls. Nicosia is Europe's last remaining divided city, yet in spite of this, it is a vibrant city with restaurants, bars, cafes, galleries, and shops that offers a plethora of cultural treasures.
Walk along Ledra Street, lined with cafes and shops. Explore Onasagorou Street with more shops and restaurants. After dinner, enjoy live music at one of the old town's many live music venues.
Day 4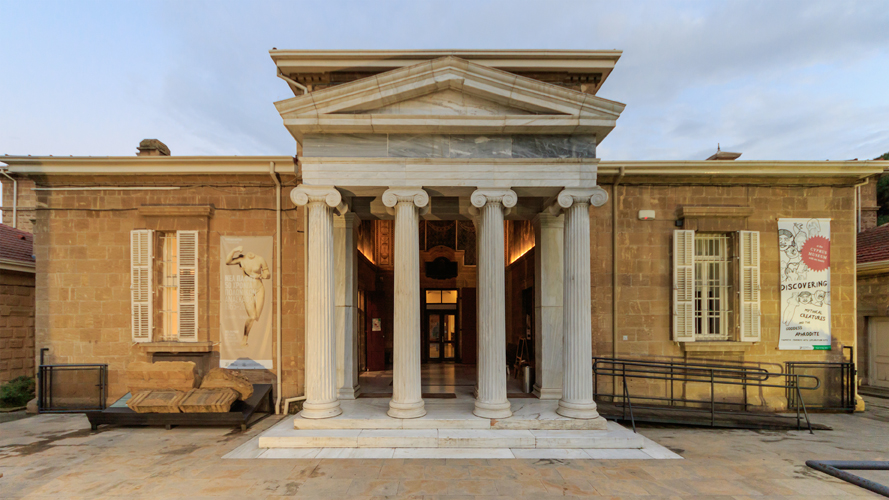 Nicosia
Begin the day at the excellent Cyprus Archaeological Museum to get an understanding of the width and breadth of the island's rich history. Continue with a visit to Laiki Geitonia in the old town, which is a preserved area of small alleyways lined with traditional homes and shops.
A short walk to the Archbishop Palace square leads you to the National Struggle Museum that documents the heroes of the struggle against the British colonial rule. Following this full day of museums, you can enjoy an authentic hamam experience at the Omeriye Hamam before having dinner at one of the many excellent restaurants of the old town.
Day 5
Troodos Mountains
Head to Troodos to enjoy the coolness of the forested mountains and to explore traditional picturesque villages. Enjoy lunch at a cozy taverna at Kalopanayiotis, and continue through the villages of Moutoulas and Pedoulas before you reach Mt. Olympus, the highest point in Cyprus. Then head to Platres, which was once the summer vacation spot of the elite. Here, you can hike through the forest and then dine at one of the many traditional restaurants.
Day 6
Troodos Mountains
It is well-worth the time to take a roadtrip to visit several traditional villages in Troodos. Many of them have cobbled streets with centuries-old churches in their main squares.
A few notable villages are Omodos, Vasa, Potamiou, Vouni. There are also wine routes in the area. You will see cultivated fields and can even arrange for a wine-tasting at one of the local wineries.
Day 7
Troodos Mountains Rest Day
With all this exploration, we recommend that you have a rest day in the mountains and enjoy the cool, refreshing air. You can even go on short nature trail to be closer to nature, or visit a few more villages such as Potamiou, Vouni, Koilani and Lofou.
Day 8
Limassol
Visit the notable picturesque villages Koilani, Lofou and Laneia, stopping at one for a coffee in the main square. Then, make your way to Limassol – the dynamic, cosmopolitan seaside city.
Visit the fourteenth century castle and the quaint old town. Take a walk along the well-manicured tree-lined promenade and visit the newly built marina for shopping and dinner.
Day 9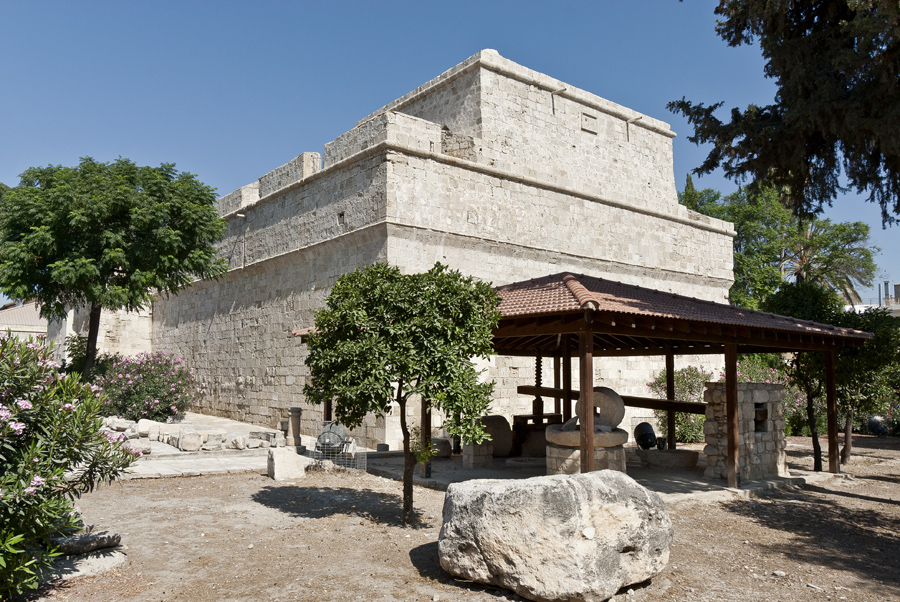 Limassol
Explore Limassol's old town, first with a visit to the fourteenth century castle, where Richard the Lionhearted married Berengaria of Navarre and crowned her Queen of England. Afterwards, visit the restored Old Carob Museum and then stop at the covered bazaar.
The Central Market, housed in an arcaded building from the British era, is worth a visit to traditional products such as loukoumia and olive oil as well as fresh fruits and vegetables. Enjoy a dinner at one of the many international restaurants in Limassol and have an evening stroll along the romantic promenade.
Day 10
Paphos
Leaving Limassol, drive to the spectacular hillside site of Ancient Kourion with alternating vistas of cultivated fields and the sea.This archeological treasure includes a functioning open-air theatre that hosts summer performances.
Driving towards Paphos, be sure not to miss the Sanctuary of Apollo Hylates – a perfect place for photos.
Further down along the coastline, discover "Petra tou Romiou", a giant rock with a few small ones nearby, jutting out of the sea. It is also known as "Aphrodite's Rock", as it is considered to be Aphrodite's birthplace. Legend has it that you would gain eternal beauty should you swim near the rocks. Another urban legend claims that if you swim around the rock three times, you will find eternal love.
Paphos is actually two towns: Ktima, the upper town, where all the sites are clustered around the neoclassical town hall and the newly-paved Kennedy Square, and Kato Paphos, the lower town, where all the action and all of the main attractions lie. Before heading to Kato Paphos, take the time to explore Ktima and enjoy a cool beverage at one of the many cafes in Kennedy Square.
Day 11
Paphos
Kato Paphos's long and wide seaside promenade is lined with shops, cafes and restaurants and extends for two kilometers to the thirteenth century Medieval Castle that used to protect the picturesque harbour. If you continue walking along the promenade, past the castle, you will enjoy a beautiful quiet coastal nature path with viewing benches to admire the unique landscape.
Near the harbour, you will find the entrance to the Paphos Archeological Site, an UNESCO World Heritage Site, that encloses a Roman Odeon, a Lusignanian castle, and the site's main highlight, the lavish mosaics of four Roman villas. These mosaics, illustrating ancient Greek myths, are among the world's best-preserved and impressive Roman mosaics.
Just a short drive from the Archeological Site is one of Paphos's most picturesque attractions, the twelfth century church Ayia Kyriaki, better known as the Panayia Chrysopolitissa Basilica, which is situated among the Ancient Roman Agora ruins. According to tradition, outside the church there is an ancient marble pillar upon which St. Paul was lashed when he visited Paphos – the incident is actually described in the New Testament.
Finish the sightseeing day at the Paphos Waterpark that offers fun water rides for everyone.
Day 12
Paphos
A visit to Paphos without one dedicated beach day would simply not be a visit. Several beaches are available downtown. Alternatively, you can travel twenty minutes by car to find a sublime sandy beach at Coral Bay with lounge beds, umbrellas and snack shops nearby.
Day 13
Paphos
Explore the picturesque villages of Paphos and see its wine country. Start with Tsada where you may also visit the Evagoras Pallikarides Museum, then the villages of Polemi, Agios Dimitrianos, Kannaviou, Kritou Marottou, Fyti, until you reach Panayia Chrysorrogiatissa where you will find an impressive eleventh century monastery.
You can enjoy wine-tasting at the nearby Kolios Winery and then return to Paphos by driving through the lush Diarizos Valley, stopping at Pentalia, Amargeti and Anarita.
Day 14
Pomos
With an early start, head north through the picturesque villages of Pegeia, Kathikas, Arodes, Kato Akourdalia, Inia, Drouseia, Polis Chrysochou and Pomos. In Pomos, the westernmost point, you can enjoy great swimming and then the spectacular sunset with dinner and live music at the Paradise Beach. Spend the night in Polis Chrysochou.
Day 15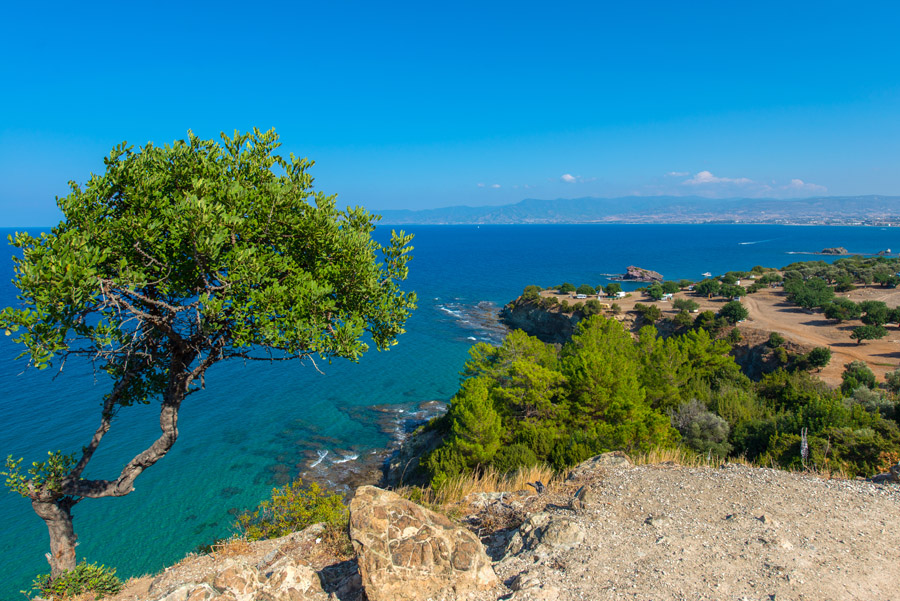 Paphos
Enjoy breakfast in the fishing hamlet of Latsi and then head with a rental jeep to the off-road Akamas Peninsula for wild, rugged landscapes with deep gorges and sandy bays. With its pristine blue waters, Akamas's Lara Beach is a local favourite. It is also the breeding area of endangered turtles.
Afterwards, drive towards the fishing village of Agios Georgios with its impressive sea cave coastline. If there is time, you can also visit the Paphos Zoo that has an excellent collection of exotic birds, before returning to Paphos.
Day 16
Ayia Napa/Protaras
Head east towards Ayia Napa and Protaras. On the way, stop at Choirokoitia, the famous well-preserved, wall-enclosed neolithic human settlement dating back to 7,000 BCE. Archeologists have reconstructed circular huts to help visitors better understand what the settlement looked like.
Continue to Ayia Napa, which offers the ultimate beach and nightlife experience. Here, you will find stretches of golden sandy beaches with tavernas serving fresh seafood. Enjoy a swim at Pantachou Beach or Ammos Kambouri Beach. At night, Ayia Napa becomes a clubbing and dancing destination for tourists of all ages.
Day 17
Ayia Napa/Protaras
Further east from Ayia Napa, lies Cape Greco National Forest Park with arresting views of the Mediterranean and its impressive coastline. Enjoy watersports at the Fig Tree Bay cove or a swim at Sunrise Beach.
Protaras is a tourist town with many bars and restaurants offering traditional Cypriot and international cuisine. In the evening, you may revisit Ayia Napa for it's great nightlife scene.
Day 18
Ayia Napa/Protaras
Enjoy one of the beautiful beaches on the southeast coast and soak up the sun and fun.
Day 19
Ayia Napa/Protaras
Beach day.
Day 20
Ayia Napa/Protaras
Beach day.
Day 21
Ayia Napa/Protaras
Head back to Larnaca's Airport for your scheduled departure.
See More Itineraries