Built during the Venetian rule (1489-1571) a series of hidden bridges are dotted around the villages of Cyprus. The bridges formed part of the old camel trail, built by the Venetians to extract anything valuable they found on the island, such copper from Pera Paidi village. Make a fun day-trip out of exploring them and go for a walk on the Venetian Bridges nature trail opened by the Department of Forests or a 4 x 4 drive.
Nestled amongst vegetation and built over streams, there's usually a cool climate surrounding the bridges which is an ideal break during the hot months and an enjoyable excursion in autumn and winter. With various Venetian bridges scattered around, here are three you shouldn't miss out on.
Tzelefos bridge, Paphos district
Definitely the most known bridge of the island, you'll find it in Paphos' forest and it can easily be accessed from Limassol and Troodos as well, with all routes offering beautiful views of cypress and pine trees. Its popularity is due to the fact that that it's the largest stone bridge ever build in Cyprus and goes over river Diarizos. Found in an area of rich green vegetation, the forest area engulfing it is beautiful and has various nature spots to be explored. Many hikers, tourists and even newly-weds make a stop to be photographed with the charming Tzelefos bridge. Only 6km from Ayios Nikolaos villages, enrich your journey by visiting some other nearby picturesque villages such as Omodos, Arsos and Vasa.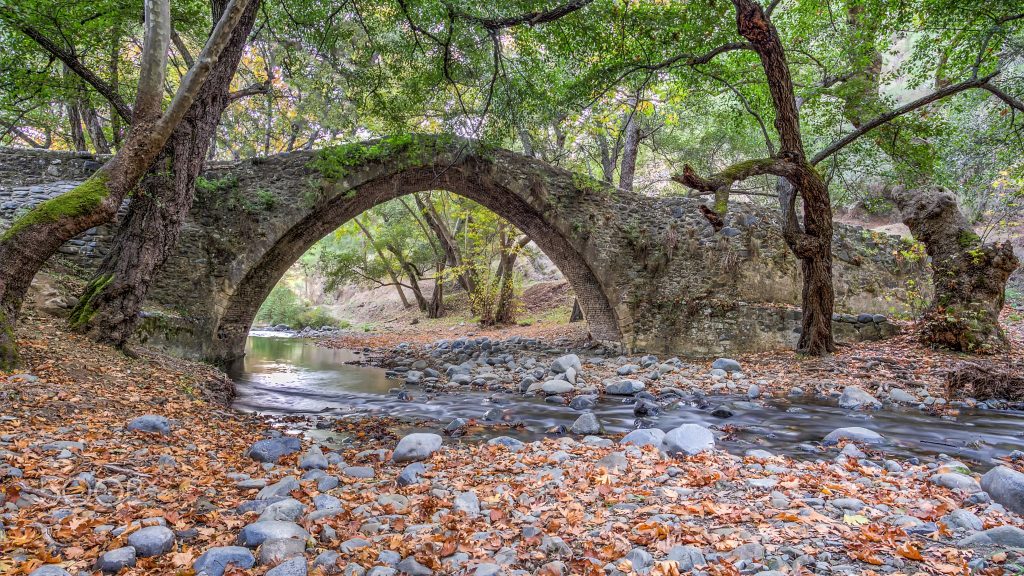 Elia Bridge, Paphos/Limassol district
Very near Kaminaria village (4km) and only 2km from Tzelefou bridge, Elia bridge is built where the river of Kaminaria and Diarizos meet. The name of the bridge translates to "olive" and as the name suggests there was a vast reach of olive trees in the area. Look out for the carving of crosses on both sites of the bridge, considered to be its main characteristics. To experience its vegetation bloom, visit over winter or spring when the river will most likely be running and more green will be decorating the area.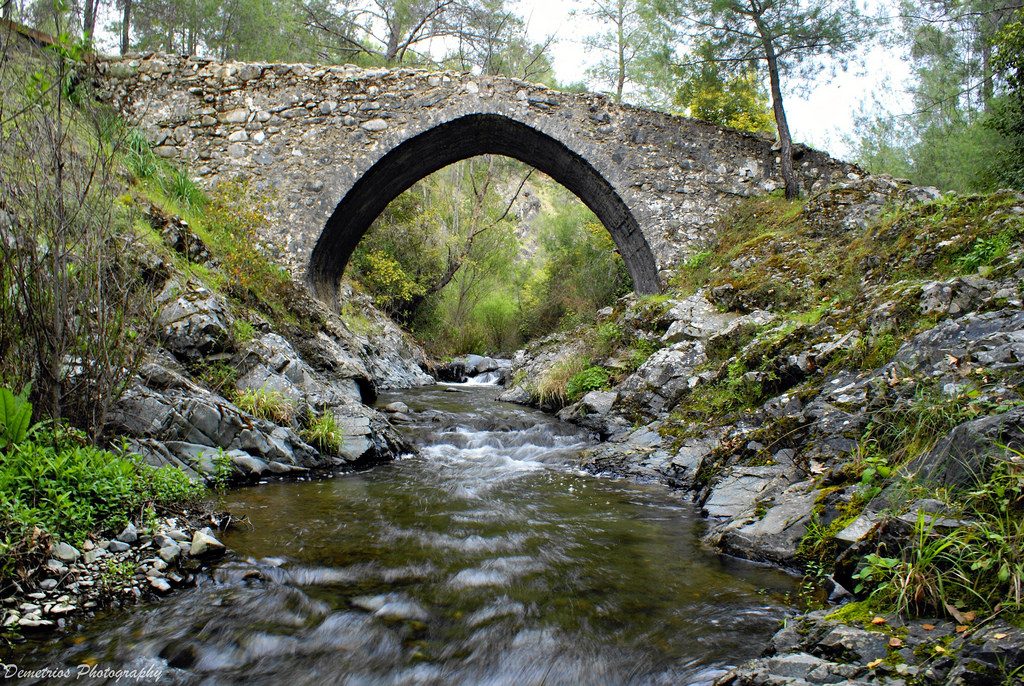 Akapnou Bridge, Limassol district
A lesser known Venetian bridge, even for locals, is that of Akapnou and surprisingly features two arches rather than the typical Venetian style of one. 25 minutes from Limassol, finding it might be a tricky task as it's buried in wilderness at the end of a dirt road. Whilst on the Akapnou – Eptagonia road, pass by Akapnou village, cross the modern bridge and look for a sign for the Venetian medieval bridge on the right. This will lead onto the dirt road. If with a rental car and worried about taking it down a bumpy road, park and walk around 300 meters to get to the bridge. Approaching you have a wonderful view of the two arches, just be careful of the wild vegetation growing free around it and any sharp drops.