4 Paphos Public Art Works to Admire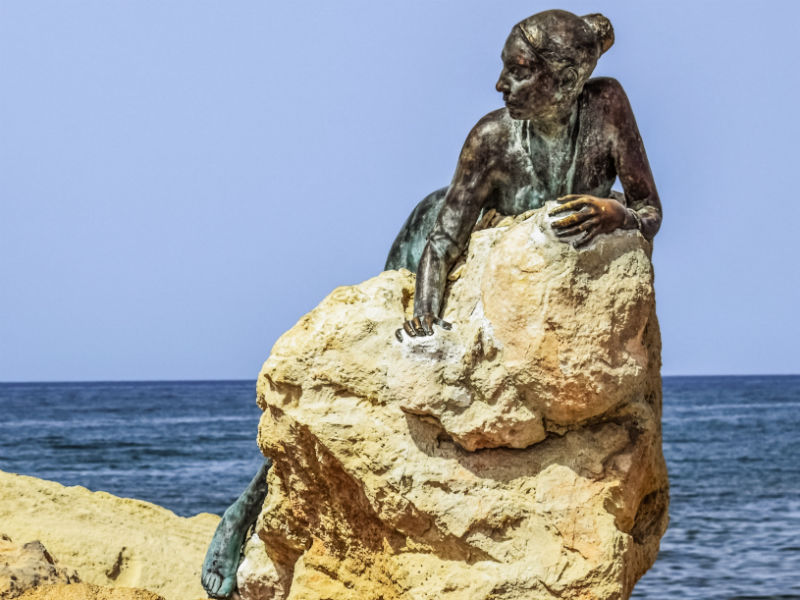 Public art and site-specific sculptures often reveal subtle nuances about a city and give us a better understanding about a country's culture and history.
Four public sculptures, each depicting a different story, are located in Paphos. By understanding the artists and concepts behind each of these sculptures, we hope you enjoy getting to know Paphos a little better!
"Past Presence" by Helene Black
Arriving at the Paphos International Airport, you are greeted by "Past Presence", the impressive modern sculpture created by the local artist, Helene Black. "Past Presence", made from steel, metallic auto paint, granite and fluorescent lights, is installed at the airport's entrance and was commissioned by the Hermes Airports in 2008.
The two-dimensional metallic female figures are inspired by the Chalcolithic period of the island. The artist's numbered figurines are geometric and enhanced through cuts in their metallic surface.
During the Chalcolithic period, several of these figurines, which represented fertility, were found in the Paphos area.
"The Little Fisherman" by Yiota Ioannidou
As part of the artistic events of the European Capital of Culture in 2017, Paphos-based artist, Yiota Ioannidou's sculpture entitled "The Little Fisherman" has gained a lot of attention and admiration since it was installed near the castle in the Paphos Harbour area.
"The Little Fisherman", a bronze sculpture of a young boy and a large fish, is the second sculpture to be placed in the area by Ioannidou, as part of the "Signs in Time and Space," project, where six participating artists were selected from an open call to create twelve works of site-specific art.
All these sculptures are found in different locations between the Paphos lighthouse and the sea, along the western coastline of Kato Paphos.
Lemba's Cyprus College of Art
Established in 1969, the Cyprus College of Art in the village of Lemba in Paphos, offers a great opportunity to view some of the numerous sculptures that the college's students have created throughout the years.
Located about four kilometres north of Paphos, the entire college campus is surrounded by an impressive sculpture wall known locally as the "Great Wall of Lemba". The sculpture wall began in the 1980's when the founder of the college, Stass Paraschos, along with artist, Anthony Heywood, created a large pair of hands scooping water and placed it at the entrance of the school. Over the years, numerous artists have added to the structure which has become an important public art work in Cyprus.
Memorial to Paphos dead during the Second World War by Aghela Sofokli
In 1997, the unveiling of a memorial monument for the people that died in WWII was carried out by the Paphos Municipality on the Georgios Griva Digeni Avenue, in the heart of Paphos.
The modern stone sculpture is the result of the veteran association established the day for commemoration of the dead of both World Wars.