8 Agro-Tourism Villages to Stay in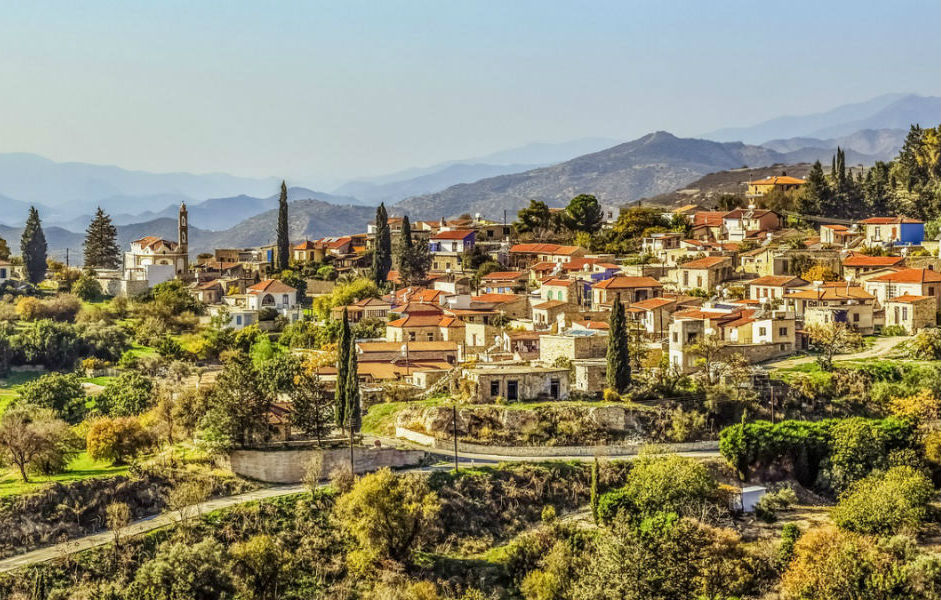 Seeking to escape the city? Look no further than Cyprus' picturesque mountain villages that are perfect for an urban detox. With traditional stone-built architecture and cobbled streets, these villages offer a great getaway to enjoy a slower pace of life in idyllic landscapes. These beautiful villages have welcoming locals, taverns offering home-cooked dishes and shops selling hand-made Cypriot crafts, all revealing a glimpse into local village lifestyle.
If you'd like to explore unique, isolated villages with a dash of local flavour, here are some of our suggestions for a great travel experience.
Kalopanayiotis
Within the Marathassa Valley of the Troodos mountain range is Kalopanayiotis village, one of the fourteen villages of the region.
Characteristic of Cypriot mountain villages, the houses in Kalopanayiotis are built along the mountain slopes, so be sure to roam the streets to discover all of its ins and outs. Known for its sulphur springs, many believe that the river water has healing properties as the kings of the area visited the region as a wellness resort centuries ago. Find these mystic waters at the banks of river Setrachos next to the Venetian bridge.
Ideal for outdoor activities, Kalopanayiotis offers nature trails, green picnic areas, a Byzantine museum and six chapels dispersed around the village. If a day trip isn't enough, rent one of the restored traditional houses, part of the agro-tourism movement, that has recently enriched the Cyprus travel scene.
Fun fact: The village got its name from its first resident and means 'good Panayiotis', referring to his name.
Galata
An hour's drive from Nicosia, nestled in the evergreen Solea valley, Galata is a popular destination in both summer and winter, known for its cooler climate during summer heatwaves and for its cosy traditional houses.
Architecture lovers can admire the charm of the old buildings, all decorated with wooden balconies; a distinctive trait of the village. These balconies were the social hubs of the village, as locals would sit on their balconies during summer evenings and watch by-passers. Stay in one of the newly-renovated houses for an authentic ambiance of Galata life.
On your stroll around the village, visit the only mill still operating in Cyprus, Kyrillou, whose entrance is an experience on its own as you have to pass through a tight and low opening of a large rock. Leaving the mill, you can visit one of seven chapels and make a final stop at the Folkore Art Museum to see the working tools of ancient locals, a collection of traditional clothing, kitchen items and furniture.
Omodos
One of the most well-known villages of the island is Omodos, known for its impressive monastery and its local production of wine, both of which form a vital part of Cyprus' cultural heritage.
The town centre has pebble-paved streets and are lined with shops and restaurants that lead up to the monastery.
Renowned for its vineyards, Omodos is the perfect place to taste Cypriot wine and zivania, along with some local delicacies also handmade in the village. These delicacies include soutzoukos, palouze and koulourka.
Similarly, you'll find ideal souvenir gifts that range from handmade embroideries to wonderful brocades and tablecloths.
Located 42km north-west of Limassol and within the Troodos mountain range, Omodos is a great base for visiting nearby villages along the wine route.
Lania
Lania is another grape cultivating village that is home to many local and foreign artists. This serene and quaint village radiates an artistic atmosphere with colourful potted plants and wall ceramics decorating its many alleys.
Many artists will happily welcome visitors in their studio or gallery to view or purchase their art. With only a few working taverns, travellers are promised a more personal approach and an intimate culinary experience.
It is best to explore the small village on foot and it's definitely worth a visit – especially for photography and traditional culture fans. Its picturesque alleys and museums boasting local craftwork, won't disappoint.
Fun fact: According to tradition,the village got its name from Lana, daughter of Dionysos, God of Wine.
Lefkara
Only a 20-minute drive from Nicosia, you'll find the charming village of Lefkara, known throughout the world for its intricate lace and embroidery. The lace and embroidery tradition has been passed down from generation to generation and reached international recognition when the tradition entered the UNESCO list of Intangible Cultural Heritage in 2009.
The lace, also known as lefkaritika, can be found in many shops along the village streets and is a determining factor in Cyprus's folk art culture. Feel free to lose yourself in the narrow, pebbled-paved streets to find the Lefkara Handicraft Centre and get a real taste of local desserts by taking a Loukoumi workshop.
Try the distinctive meal of Lefkara; tavas, a meat dish mixed with rice and vegetables originating from the village.
Tochni
Half way between Larnaca and Limassol is the quaint village of Tochni, considered to be one of the oldest villages in Cyprus.
Meander through the narrow alleys and admire the charming housing, the ruins of a Latin church in the centre of the village and visit the St Constantine and Helena church right next to village square.
Today, it is a proud agro-touristic village preserving old Cypriot stone houses by using Tochni stone which is quarried nearby. This type of stone is a trademark of the village and a characteristic of many Cypriot villages.
The few remaining residents will entertain you with stories of the village mosque and give you the best advice for which dishes to try.
Kathikas
One of the most visited villages of Paphos is scenic Kathikas with its century-old buildings preserving the local folklore element.
Situated between Paphos and Latsi, Kathikas is a great choice to use as a base to explore more of the Paphos region. From there, you can easily travel to the Akamas Peninsula and Aphrodite's Baths.
Surrounded by vineyards, Kathikas is known for its high quality local wines and succulent foods. Enjoy a wine and food pairing at one of Kathikas's taverns.
Tip: If you're interested in experiencing local culture, visit during Easter week as the village gathers large crowds that watch re-enactments of Greek Orthodox Easter traditions.
Miliou
With a population of about sixty residents, Miliou is one of the smallest villages in Cyprus. It is also one of the greenest villages in the area, thanks to an rich supply of spring water which irrigates the surrounding almond trees, vineyards and citrus groves. Spring is a best season to visit as blossoming almond trees decorate the area.
Miliou is a haven for nature lovers due to its expansive valley views and unspoilt countryside, so take long walks and go bird-watching as the village is a nesting site for nightingales. The aroma of fresh air, spring flowers and lemon trees is sure to relax its visitors. A unique place for those seeking a peace of mind.